Palestine
Zionist Israeli regime plan to turn an Islamic site in the Aqsa into Jewish ritual baths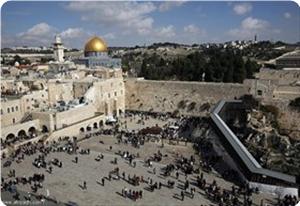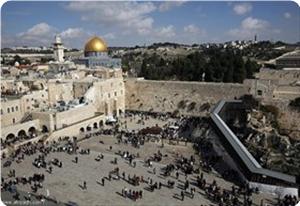 Al-Aqsa Foundation for Endowments and Heritage revealed that there is an Israeli plan to turn a historic Islamic archaeological site in the vicinity of the Aqsa Mosque into Jewish ritual baths for women.
The Foundation considered, in a statement on Sunday, this plan a blatant assault on Al-Aqsa mosque and on the ancient Islamic monuments and said it aims to Judaize the Mosque.
It added that according to Israeli press sources MK Aliza Lavie from the Yesh Atid party promised during the meeting held recently in the Knesset, to work on the restoration of a site nearby the Aqsa and turn it into Jewish ritual baths to serve religious Jewish women, at the request of "Women for Temple" organization.
Al-Aqsa Foundation noted that this new plan is likely to be implemented either in the south-western side of the Aqsa Mosque near the Magharba gate or in the western side of the Buraq area.
Meanwhile, the Israeli occupation forces accompanied by the Jerusalem municipality staff stormed the town of Silwan, adjacent to the Al-Aqsa Mosque, and distributed demolition notifications to four houses and a grocery store in the neighborhood of Wadi Hilweh, under the pretext of building without licenses.
Wadi Hilweh Information Center in Silwan said in a statement on Sunday that the Israeli municipality staff handed five demolition notices to a number of Jerusalemite families.
The families that received the demolish orders are the Siam, Ghaith, al-Taweel, and Eweda families.
The center pointed that the houses of Ghaith and Siam families were built in the 1990s and are inhabited by 14 people.
The Israeli municipality staff also handed a demolition order to an under-construction site that belongs to the Eweda family. The house is 75 square meters wide.
Israeli forces also raided the house of Jawad Siam, the director of the Wadi al-Hilweh Information Center, and handed him a stop-work order. His house is 70 square meters, and it was built in 1952. The family repaired the roof of the house because water leaks inside during the winter, he says.
Jerusalem municipality staff also placed a demolition order on a building that belongs to Qaraen family. The house consists of three apartments inhabited by 13 people, including 5 children. It was built in 1998.
Israeli forces imposed expensive penalties on Qaraen family, who tried to apply for a license, but all their attempts failed.
The municipal crews took photos of several houses in Wadi Hilweh, as well as the entrances and exits of neighborhoods.