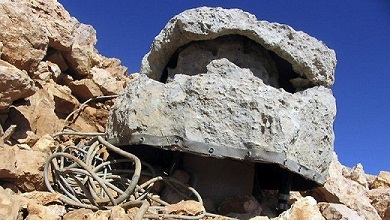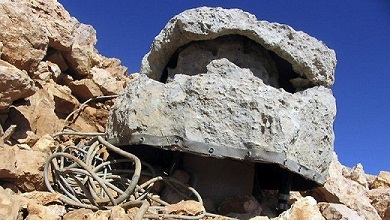 Three large Israeli espionage devices have been found hidden in artificial rocks on an uninhabited island opposite to the Syrian port of Tartous, where it was being used to monitor Russian naval movements.
Israeli commandos launched a daring raid into Syrian territory to plant sophisticated camera equipment that looked exactly like the indigenous rocks.
"Israel's elite Flotilla 13" sneaked onto the island on silent skiffs and extracted the stones to replicate for the spy camera. The frogmen returned to plant the decoys and set up the surveillance rig.
They were mounted in fake rocks designed to blend in with surrounding boulders.
According to Al-Manar TV, the "rocks" could track and film Russian warship movements and instantly transmit pictures back to Israel by satellite.
Syria's state-run television showed a camera, a satellite dish and other objects including batteries and cables secreted among several imitation rocks.
The Israelis approached the island from one of the country's German-built Dolphin class submarines, which are armed with nuclear cruise missiles.
The commandos had apparently visited the island earlier to obtain samples so the colour and shape of local rocks could be matched and the right position for the monitoring station established, media reports have said.
It is not known how long the monitoring station operated before it was uncovered. A senior Syrian security official said the equipment was highly intricate and as well as tracking ships could also keep tabs on Syrian troop movements, according to the Australian news.