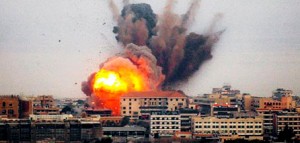 Zionist military reconnaissance aircraft bombed last night open areas in As-Sudania area north of Gaza Strip.
Dr. Muawiya Hassanein, director of ambulance and emergency, said that the Zionist reconnaissance aircraft bombed areas in As-Sudania area, causing no injuries.
For its part, Zionist gunboats opened fire and missiles at the fishing boats near As-Sudania area, which led the fishermen to leave the sea, fearing for their safety.
The Zionist gunboat opened fire daily on fishing boats to prevent them from earning their living.
The Zionist artillery yesterday fired several shells at a group of workers in the west of Beit Lahia, which led to the injury of 5 workers. The injuries were between light and medium according to medical sources.