Palestine
Zionist Livni, Erakat, Kerry "Share" Iftar Meal (!), Hold "Productive" Talks (!)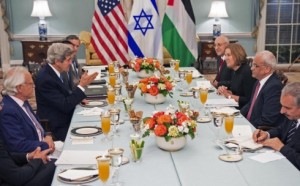 Brokered by US Secretary of State, Israeli and PA officials hold "productive" talks over "peace" on Monday.
Livni, Erakat, Kerry during talks on MondayIsraeli chief negotiator Tzipi Livni and her puppet Palestinian counterpart Saeb Erakat sat down side-by-side opposite US top diplomat John Kerry to share an itfar meal just after sunset.
"It was a constructive and productive meeting between the parties. They engaged in good faith and with seriousness of purpose," a senior State Department official said in a statement, after the dinner lasting about 90 minutes.
"We are looking forward to continuing the talks tomorrow morning."
In Thomas Jefferson room at the State Department, Kerry had welcomed the two teams to the flower-bedecked table for a dinner of grilled Atlantic grouper and apricot upside down cake, hailing the moment as "very, very special."
"There's not very much to talk about at all," he joked, seeking to break the ice after breakthrough in the deadlocked "peace" process.
For his part, President Barack Obama has welcomed the start of the talks, calling it a "promising step" forward but warning of "hard choices."
"The most difficult work of these negotiations is ahead, and I am hopeful that both the Israelis and Palestinians will approach these talks in good faith," he said.
Obama promised the United States was ready to support both sides "with the goal of achieving two states, living side by side in peace and security."