Middle East
Palestine
Zionist media bullying leading German magazine over anti-israel article
Major zionist media outlets have launched a systematic bullying campaign to demonize Germany's leading news weekly, Der Spiegel, after it recently revealed that two small pro-Israel organizations were directing Berlin's Middle East policy.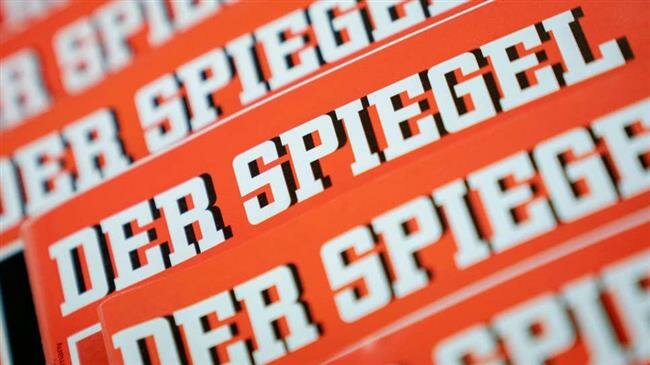 Reacting to Der Spiegel's article, Israeli Hebrew-language daily newspaper Israel Hayom, which is close to Israeli Prime Minister Benjamin Netanyahu, claimed that journalists involved in the article were linked to the fake news reporting by Claas Relotius, a well-known investigative journalist.
The Jerusalem Post and several other Israeli media outlets on Monday also accused the German magazine of promoting Israel-related anti-Semitism and demanded an apology.
Der Spiegel, a 71-year-old publication, is renowned for its quality journalism and is read by hundreds of thousands of people in print and by millions online.
The defamatory campaign by Israeli media comes after a team of six Spiegel journalists wrote in a three-page article that two Germany-based organizations – Values Initiative and The Middle East Peace Forum (Naffo) — used "dubious methods" to mount a "targeted campaign" to secure a Bundestag (parliament) resolution opposing the Boycott, Divestment and Sanctions (BDS) campaign against Israel.
The German magazine in its weekend publication went onto point out that German lawmakers did "not want to reject the resolution out of fear of being labeled an anti-semite."
Palestine censures anti-BDS vote by German lawmakersThe Palestinian Foreign Ministry criticizes a recent vote by German lawmakers against the international Boycott, Divestment, and Sanctions (BDS) movement, which targets Israel.
In May, a cross-party alliance in the German parliament Bundestag voted to condemn as "anti-Semitic" the BDS movement, which calls for economic pressure on Israel to end the occupation of Palestinian territories.
In a move welcomed by the Tel Aviv regime, the majority of German lawmakers in the Bundestag voted in favor of a motion that accuses the BDS of using anti-Semitic tactics to fulfill its political goals.
The resolution was submitted by German Chancellor Angela Merkel's fellow-conservatives, their Social Democrat coalition partners, as well as the Greens and Free Democrats.
The vote was denounced by the BDS as anti-Palestinian.
Der Spiegel further revealed that the two organizations were "front organizations" for the Tel Aviv regime with links to the Israeli spy agency Mossad.
Naffo "advocates for positions of Israel's Prime Minister Benjamin Netanyahu" and "carries out aggressive lobby work" in Berlin's government district, the magazine noted
The authors stated that the "questionable methods" of Naffo involved a conference where positions were exchanged with politicians and trips were arranged to bring German MPs to Israel.
The magazine has stressed that the organizations run a "network" and wield outsized "influence."
israel rushes to take action as BDS bites deeperIsrael is putting together a new blacklist of companies and individuals who support the Boycott, Divestment and Sanctions movement against the regime.
The article also quoted German Undersecretary of State Niels Annen, who criticized the two pro-Israel groups: "Any attempt to influence the balanced position of Germany or Europe in one of the sides' directions is problematic."
Israel and its allies in Washington and other Western capitals have long railed against the BDS, which calls for people and groups across the world to cut economic, cultural and academic ties to Tel Aviv.
Inspired by the South African anti-apartheid movement, the BDS has claimed several recent successes in isolating Israel.