Middle East
Palestine
Zionist military base targeted by incendiary balloon from Gaza
Zionist media say an incendiary balloon launched from the besieged Gaza Strip has struck a military base in the occupied territories, with reports declining to provide further details on the number of possible casualties or the extent of damage.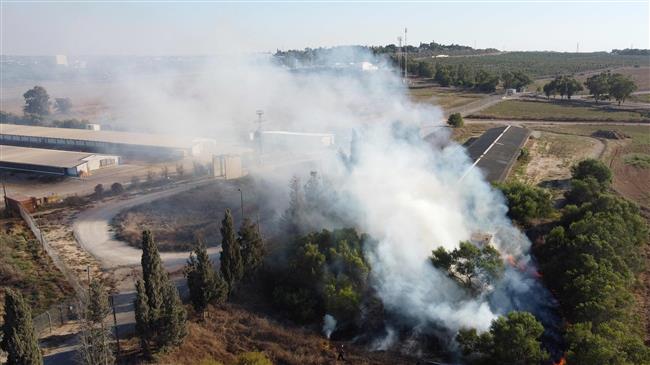 Israel's Hebrew-language newspaper Maariv said on Monday that the balloon, with a suspicious object attached to it, landed in an army base located in the city of Sderot near the besieged coastal enclave.
The paper added that Israeli bomb disposal units and military sappers were swiftly deployed to the site.
Israel's Channel 12 television network also confirmed on Monday that a group of incendiary balloons had crashed at an Israeli air force base in the occupied territories.
The incident came a few hours after the Israeli military conducted fresh artillery and aerial attacks in Gaza.
Gaza has been under a crippling Israeli siege since June 2007 and the aggressive move has caused a decline in living standards as well as unprecedented unemployment and poverty among Gazans.
For the past weeks, the Israeli war machine has been pounding different areas of Gaza either by its warplanes or through artillery fire, claiming that the attacks were mainly in response to incendiary balloons sent by Gazans to cause bush fire in the southern parts of the occupied territories.
Flying fiery kites and balloons has become a new mode of protest by Gazans since March 2018, when the Tel Aviv regime began a crackdown on anti-occupation demonstrations near the fence separating Gaza from the occupied territories.
The new development came after the London-based Asharq Al-Awsat reported earlier on Monday that the chief of the Israeli military's Southern Command Maj. Gen. Herzi Halevi has visited Qatar amid heightened tensions in the Gaza Strip.
Halevi flew to Doha along with other officials from the Israeli military and Israel's spy agencies Shin Bet and Mossad to ask Hamas leaders residing there to prevent a military escalation in Gaza, the London-based Asharq Al-Awsat reported.
"The delegation worked on negotiating an agreement or a ceasefire accepted by Hamas leaders residing in the Qatari capital, mainly Ismail Haniyeh and Saleh al-Arouri," it quoted intelligence sources in Tel Aviv as saying.
While Egypt has been seeking to mediate a ceasefire, the report said the Israeli military wants to see Doha play a larger role in mediating.
According to the report, the sources said Hamas leaders "take Israeli threats to assassinate party figures seriously".