Palestine
Lebanon
Middle East
Zionist military drone crashes in Lebanese territory over alleged technical malfunction
An Israeli military drone has crashed inside Lebanon's territory in what was claimed to be as a result of a technical malfunction.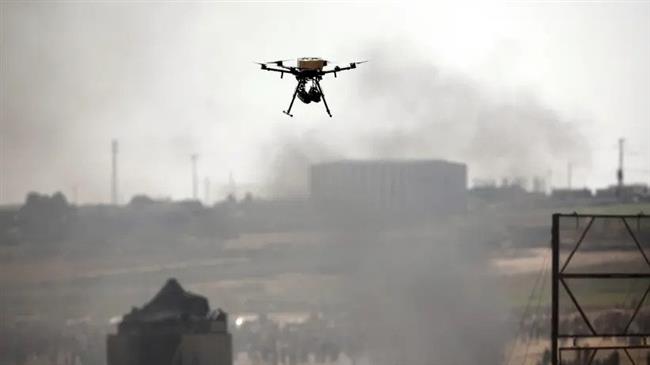 Avichay Adraee, the spokesman for the Israeli occupation forces, reported the development in a tweet on Friday and said the crash took place "during routine activities" and on Lebanese soil.
"During routine activities, an IDF drone fell in Lebanese territory due to a technical malfunction," Adraee claimed in the tweet. "There is no fear of information leakage."
The Lebanese media also confirmed the report of the drone crash.
Lebanon's resistance movement of Hezbollah has previously warned that Israeli aircraft that enter Lebanese airspace would be shot down.
Israel and Lebanon are technically at war due to the former's continued occupation of Lebanese territory, including Shebaa Farms that the regime overran in a subsequent war in 1967.
Israel launched two more wars, exclusively targeting Lebanon, in the 2000s, with Hezbollah forcing the regime into a retreat on both occasions.
The Friday's incident came just days after an Israeli Skylark drone was shot down by Palestinians in the north of the occupied West Bank city of Nablus.
The military drone, which was overflying clashes between Palestinians and Israeli regime forces, was claimed by Tel Aviv to have crashed due to a technical fault.
Moreover, Palestinian media reported on Tuesday that a crashed Israeli Skylark drone had been found in a field in the northern Gaza Strip.
Lebanon security forces nabs Israeli spy in Bakaa
In a separate development on Friday, the national police and security forces of Lebanon announced that it had arrested an Israeli agent on espionage charges in the western Bekaa region.
The Lebanon's Internal Security Forces Directorate said in a statement that the "person had communicated with the intelligence service of the Israeli enemy," and the forces had managed to arrest him, without identifying his name.
"By interrogating him, he admitted that at the beginning of 2019, he sent an e-mail to several Israeli security services asking to work for them. A person contacted him and offered to work with him by collecting information, in addition to assigning him other tasks in exchange for sums of money and he agreed," the statement said.
"And his operator trained him and asked him to collect certain information, so he carried out his requests and provided the enemy with the required information," it added.
Lebanese sources reported last year that Lebanese forces had identified and arrested a man named Kinda al-Khatib for his links to the Israeli regime.