Palestine
Zionist minister, settlers 'provocatively' tour al-Aqsa Mosque compound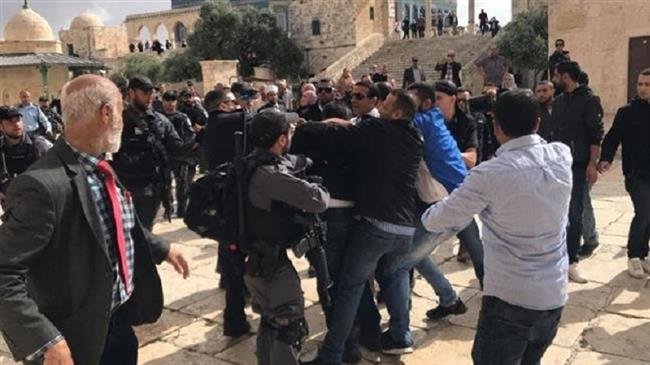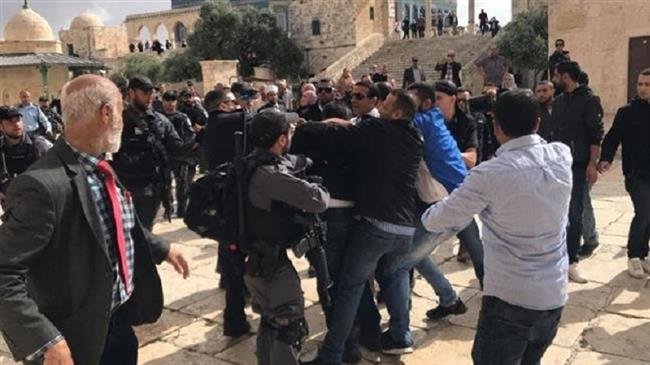 Zionist Minister of Agriculture and Rural Development Uri Ariel and a group of settlers have "provocatively" entered the al-Aqsa Mosque compound in the occupied Old City of East Jerusalem al-Quds.
The Palestinian Ma'an news agency, citing Firas al-Dibs, spokesman of the Islamic Waqf (Endowment) organization, said the bunch entered the compound under heavy protection by Israeli police officers on Sunday.
They toured the compound "provocatively," al-Dibs said.
The minister also performed prayers with his companions.
A similar incident occurred in mid-November.
Visits by Israelis to the compound have increased over the past week about the same time as the Jewish holiday of Hanukkah.
The number of Israeli officials, or members of the Knesset, who enter the sacred compound in a provocative manner, has increased in the past few months after Prime Minister Benjamin Netanyahu decided in July to allow legislators to visit the compound once every three months following a restriction of access that has been in place since October 2015.
Most of the Knesset members are right-wing extremists who support the demolition of the Islamic site in order to build a Jewish temple instead on what is known among settlers as the Temple Mount.
The al-Aqsa Mosque compound sits just above the Western Wall plaza and houses both the Dome of the Rock and the al-Aqsa mosque.
Tensions continue in the occupied Palestinian territories as part of the aftermath of US President Donald Trump's recognition of Jerusalem al-Quds as Israel's "capital" and relocation of the US embassy to the occupied city.
On December 21 last year, the United Nations General Assembly overwhelmingly voted in favor of a resolution that calls on the US to withdraw its controversial policy shift.
Scores of settlers break into the al-Aqsa Mosque compound under the protection of Israeli forces who take away 4 Palestinians working for a charity organization.
Despite the vote, the US went ahead with the embassy transfer on May 14, triggering demonstrations in the occupied Palestinian territories, Iran, Turkey, Egypt, Jordan, Tunisia, Algeria, Iraq, Morocco and other Muslim countries.
Angered by Trump's move, Palestinian President Mahmoud Abbas boycotted his administration, saying Washington is no longer qualified to serve as the sole mediator in the decades-long conflict with Israel, and that an international mechanism should be devised to replace the US in the so-called peace process.