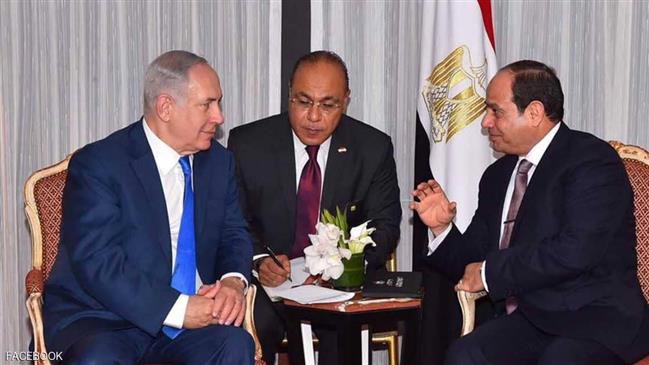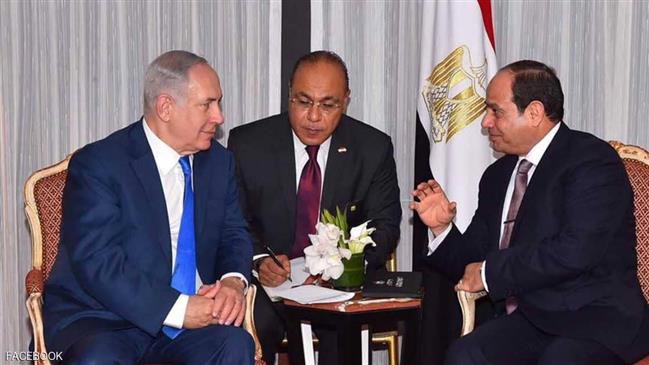 Zionist regime PM Netanyahu secretly traveled to Egypt in May for talks with President Abdel Fattah al-Sisi to discuss a Gaza ceasefire.
According to a Channel 10 station report on Monday, a US sources said that Netanyahu and Sisi discussed the possibility of a long-term truce in the Gaza Strip and the potential return of the Palestinian Authority to the region on May 22.
The meeting was held several days after the May 14 deadly protests along the Gaza border against the opening of the US embassy in Jerusalem al-Quds.
According to Gaza health officials, at least 58 Palestinians were shot dead and over 2,700 wounded by Israeli snipers who were positioned along the fence. An infant and a man succumbed to their injuries later bringing the total fatalities from the violence to 60.
Every year on May 15, Palestinians all over the world hold demonstrations to commemorate the day, which marks the anniversary of the forcible Israeli eviction of hundreds of thousands of Palestinians from their homeland in 1948.
Also on Monday, Israeli Minister of Military Affairs Avigdor Lieberman said that another round of fighting between Israel and Palestinians  in Gaza was unavoidable.
Apart from the months of tension along the border, there have also been three major military flare-ups between Israel and Hamas since July.
On Thursday, Palestinian officials confirmed that the resistance movement Hamas and the Israeli regime had agreed on a ceasefire mediated by Egypt to stop cross-border fire in the Gaza Strip.
The development comes after two days of Israeli aerial raids against at least 150 positions in Gaza.
The regime in Tel Aviv says the airstrikes were launched after a long-range rocket fired from the Palestinian coastal sliver hit an uninhabited area to the south of the occupied Palestinian territories. Hamas has claimed responsibility for the rocket attack, stressing that they were in retaliation for the killing of two Palestinians by Israeli forces.
Israel has killed more than 150 people since March when Palestinians began to stage protests on the border to demand an end to the blockade and the return of the Palestinians to the occupied territories.