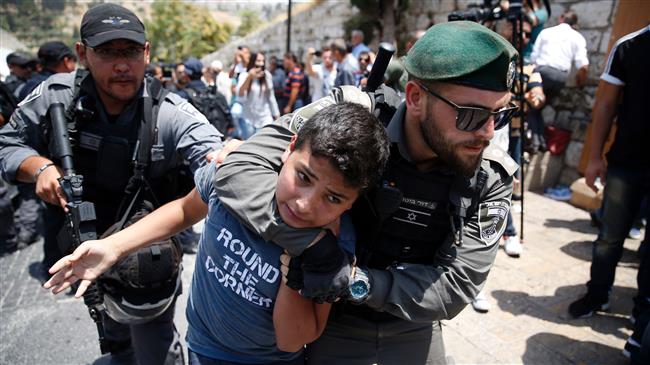 In a statement, carried by the Palestinian Information Center, Asra Media Office said that Israeli security forces arrested at least 22 Palestinians after breaking into their homes in the cities of Qalqilya, Ramallah, Jenin, Bethlehem and al-Khalil (Hebron) in the occupied West Bank at dawn on Thursday.
Former prisoners, university students and even minors were among the detainees, it said.
Local residents said violent clashes occurred between troops and local residents of Qalqilya, with Israeli forces heavily and indiscriminately firing live rounds and tear gas canisters at protesters.
A 19-year-old Palestinian was wounded with a live bullet to the leg and rushed to a nearby hospital, the Asra Media Office said. 
Elsewhere, clashes flared up between Israeli troops and locals in Ramallah where two Palestinians were injured, either with a live bullet or a rubber-coated steel one.
Israeli forces also stormed several parts of al-Isawiya neighborhood in East Jerusalem al-Quds where they arrested a Palestinian youth, stopped vehicles at the neighborhood's entrance and searched them.
Furthermore, Israeli security forces conducted home raids in Shu'fat refugee camp, adjacent to the East Jerusalem al-Quds, but no arrests were made.
Zionist settlers wound Palestinians in West Bank
Additionally on Thursday, a number of Palestinians were injured in Israeli settlers' attacks in different parts of the occupied West Bank.    
Two Palestinians suffered fractures and bruises as a result of being brutally assaulted by a group of Jewish settlers in Yatma town in Nablus, a city in the northern West Bank, the Palestinian Information Center said.
According to B'Tselem, an Israeli rights group, Israel has clearly allowed its settlers to assault Palestinians for years and inflict damage on their property as one of its policies.
This has included provision of military protection for the attackers, and in some cases soldiers' active participation in the assault.