Egypt
Middle East
Palestine
Zionist Occupation Regime, Egypt sign deal for sale of gas claimed by Lebanon
Zionist regime has struck a deal with Egypt to use a gas terminal in Ashkelon for exports of gas to the Arab country, despite opposition from Lebanon which views the reserves as stolen.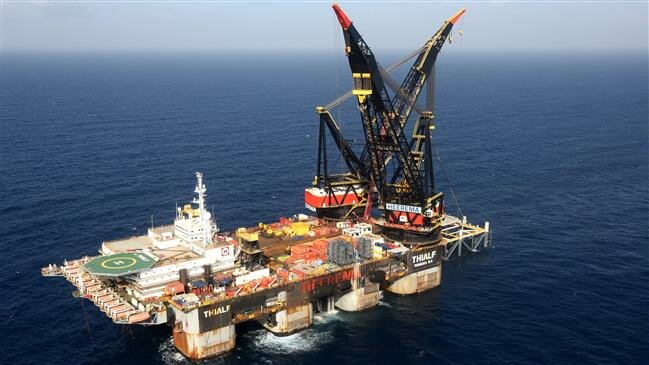 The arrangement reached on Sunday removed one of the final hurdles before Israel could begin selling gas to Egypt in a $15 billion export deal, the two sides said.
The gas will be supplied via a 90 km-long subsea pipeline that connects Ashkelon to el-Arish in Egypt's Sinai peninsula, but first the gas must pass through the Israeli terminal in Ashkelon.
Israel looks at Jordan and Egypt as the potential buyers of gas which it claims to have found in the eastern Mediterranean. Egypt's trade with Israel is larger than its trade with some Arab countries.
The reserves, discovered in the eastern Mediterranean Levant Basin since 2009, straddle the territories of several countries – including Cyprus, Greece, Egypt, Lebanon and Syria – whose relations are strained on a number of fronts.
Lebanon has warned its Mediterranean neighbors that a planned gas pipeline from Israel to the European Union must not be allowed to violate its maritime borders.
Beirut has an unresolved maritime border dispute with Israel over a sea area of about 860 sq km extending along the edge of three of Lebanon's southern energy blocks.
Israel is hoping to enlist several European countries in the construction of a 2,000 km pipeline linking vast eastern Mediterranean gas resources to Europe through Cyprus, Greece and Italy at a cost of $7 billion.
Lebanese Parliament Speaker Nabih Berri said in February that Israel was seeking to steal Lebanon's oil and gas reserves.
'Israel's move threatens to drain Lebanese oil wealth'Lebanon's parliament speaker says the Israeli move to license energy exploration risks depletion of Lebanon's potential offshore oil and gas reserves.
Lebanese sources have said the region where Israel claims to have made the find lies mostly off the Lebanese shores and in international waters between the sea border of Palestine and Cyprus.
Egypt's gas trade with Israel
Before 2012, Israel imported natural gas from Egypt; though the pipeline, running through the restive Sinai Peninsula, was dogged by frequent attacks.
The sale of gas to Israel, which signed a peace treaty with Egypt in 1979 after four wars, was always controversial in the Arab world's most populous country.
The deal, initially slated to last 20 years, was finally canceled by Egyptian authorities following the 2012 ouster of president Hosni Mubarak.
The cancellation put the official stamp on the end of the bilateral gas deal. Several senior petroleum officials under Mubarak, including his oil minister Sameh Fahmy, were also sentenced to between three and 15 years in jail for selling natural gas at below-market prices.
However, they were all acquitted when former defense minister and army chief Abdel-Fattah el-Sisi, who oversaw the ousting of Egypt's first democratically-elected president, came to power.
Other than Jordan, Egypt is the only Arab nation with formal relations with Israel under a peace treaty signed by former president Anwar Sadat in 1979.
Sisi once claimed he was approached in a dream by Sadat and was told by the former leader he would rule Egypt some day.
In a leaked recording of an interview with a reporter for Egypt daily al-Masry al-Youm in 2013, Sisi is heard recounting his fantastical conversation with Sadat, who was assassinated in 1981.