Latin America
Lebanon
Middle East
Zionist puppet Argentinean pres. tasks ministers to find ways for blacklisting Lebanon's Hezbollah: report
Reports say Argentinean President Mauricio Macri considers designating Lebanon's Hezbollah resistance movement as a terrorist group, a report says, days after hosting a regional summit— attended by the US— on countering the powerful movement.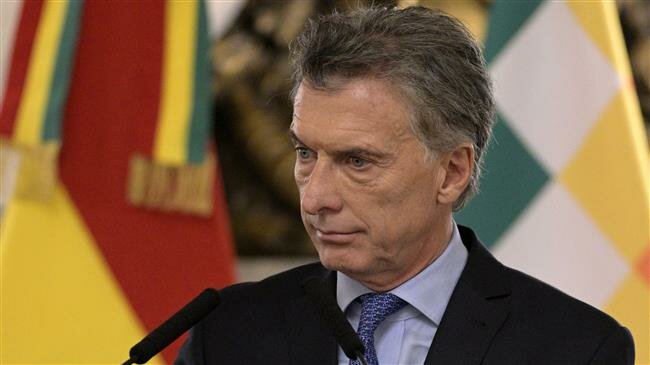 Citing sources in the government, Argentinean newspaper La Nacion said that Macri tasked the Ministry of Security and the Financial Intelligence Unit to find the most rapid way for blacklisting Hezbollah.
"We are evaluating different possibilities," said sources in the government, adding that one of the solutions is "to pass a decree."
"The two entities have been tasked by President Mauricio Macri to find the "most rapid" solution to achieve the goal of including the Iranian-backed resistance group in the list of terror organizations.
Other sources, however, told the newspaper, "We do not have a majority in Parliament, and it would take too long to pass a law there."
The report comes as the county is prepared to mark the 25th anniversary of the Jewish center bombing, known as the AMIA, on July 18.
Argentine accuses the Lebanese movement of carrying out the bombing, an allegation that Hezbollah describes as "categorically false."
Argentina hosted a regional summit the United States in attendance earlier this week, during which the two sides discussed ways to "countering Hezbollah."
"Participants discussed various techniques to constrain and counter the group's illicit activities, including the financial and law enforcement tools available to identify, investigate and prosecute Hezbollah's global support and facilitation networks," the US State Department said in a statement.
Earlier this week, the US Treasury Department imposed sanctions on two Hezbollah members of Lebanon's parliament and a security official responsible for coordinating between the resistance movement and the country's security agencies.
Hezbollah "rejected and denounced," the move, saying it "widened the assault on Lebanon and its people."
Hezbollah: New sanctions widen US assault on LebanonHezbollah says new US sanctions against three of its officials, including two MPs, have widened Washington's assault on Lebanon.
The movement was formed following the Israeli regime's invasion of Lebanon and the ensuing occupation of its southern parts in the 1980s. It currently constitutes Lebanon's de facto military power.
Since then, the movement has helped the Lebanese national army retake the occupied regions from Tel Aviv and thwart two Israeli acts of aggression in 2000 and 2006.
It has also been playing a significant role in the Syrian army's fight against the Takfiri terror groups, including Daesh and Nusra Front, and preventing the spillover of the foreign-backed war into Lebanon.
Some 50 Hezbollah individuals and entities have been blacklisted by the US since 2017.