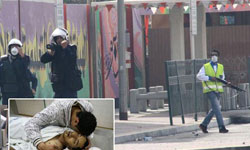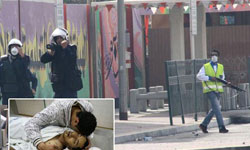 Bahraini security forces attacked demonstrators who were demanding freedom and democracy in the tiny Persian Gulf island.
A report by al-Manar said on Sunday that the Manama regime forces attacked protesters at a demonstration held in the Jad Hafs region and fired tear gas to disperse the protesting people.
Meantime, Bahrain's al-Wefaq National Islamic Society human rights watch committee said that the regime forces have arrested several people for their participation in the mourning procession of a young Bahraini protester who recently died of his wounds.
On Tuesday, hundreds of Bahrainis attended the funeral procession of the 20-year-old Mahmoud Isa al-Jaziri.
The body of al-Jaziri was given to his family last Tuesday, almost two weeks after his death.
He was martyred after being hit in the head by a tear gas canister on February 14, as security forces attacked anti-regime demonstrators in Nabih Saleh as they were marking the second anniversary of the Bahraini uprising.
Bahrain's main opposition group, al-Wefaq, said that Jaziri died in the hospital on February 22 after being in coma for a week.