Bahrain
Middle East
Zionist puppet Bahraini regime forces arrest families of political prisoners over solidarity rallies
Bahraini regime forces have arrested families of several distinguished political prisoners, after they took part in rallies across the Persian Gulf kingdom over the past days to show solidarity with their jailed loved ones and demand their immediate release amid the coronavirus pandemic.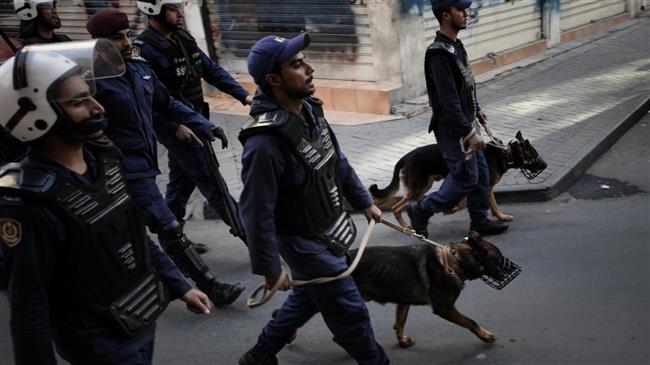 According to reports by the London-based Bahrain Institute for Rights and Democracy (BIRD) and Americans for Democracy and Human Rights in Bahrain (ADHRB), Bahraini nationals Jaafar Ramadan and Ramadan Issa were summoned for interrogation on April 6.
The organized a small protest to call for the freedom of imprisoned activist Mohamed Ramadan, who has been sentenced to death on trumped-up charges of bombing a convoy and killing a police officer in al-Deir, a village northeast of the capital Manama, in early 2014.
Even though the two were released that day, the reports added, the police station in the village of Samaheej summoned them again in the early hours of April 9.
Jaffar was reportedly arrested as soon as he showed up at the station and multiple charges, including illegal gathering, were brought against him.
The Bahraini man noted that two of the alleged charges relate to protests in a neighboring village, which he did not attend at all. Despite this, he was presented before the Public Prosecution.
Unlicensed gatherings of more than five people are illegal under Bahraini law, in breach of Article 22 of International Convention on Civil and Political Rights. 
In an apparent warning to protesters, the Public Prosecution stated on April 9 that the maximum sentence for unlicensed gatherings had been raised to 3 years imprisonment, and a fine of up to 5,000 Bahraini dinars (over 13,000 US dollars) will also be slapped against anyone who violates the rules.
On April 7, Bahrain's Public Prosecutor also ordered the detention of three brothers from the northern village of Karbabad for holding a sit-in in solidarity with their imprisoned brother Mohammed al-Daqqaq.
A family member informed BIRD that Yunes al-Daqqaq, 46, was summoned to the police station in Sanabis village, in the suburbs of the capital Manama, where he was asked to call his brothers, Yasser and Anwar to immediately join him for interrogation.
Yasser subsequently informed relatives that he was presented before the Public Prosecutor on suspicion of illegal gathering.
Mohammed al-Daqqaq reportedly suffers from a range of medical conditions related to sickle cell anemia and needs a splenectomy to have his spleen removed entirely. He was born with only one kidney.
On April 5, Bahrain's most prominent cleric Ayatollah Sheikh Isa Qassim expressed concern over the poor healthcare situation in the country's prisons and jails, renewing his call for the immediate release of political inmates in light of the deadly coronavirus pandemic.
Sheikh Qassim called on Bahraini protesters demanding the freedom of imprisoned opposition figures to continue their demonstrations.
"Show the world how the oppressed people stand up for their rights and never compromise on them. At the same time, they do not allow their anger and outrage to take them away from observing the norms of their religion and wisdom," the senior cleric said.
Demonstrations in Bahrain have been held on a regular basis ever since a popular uprising began in mid-February 2011.
The participants demand that the Al Khalifah regime relinquish power and allow a just system representing all Bahrainis to be established.
Manama, however, has gone to great lengths to clamp down on any sign of dissent.
On March 5, 2017, Bahrain's parliament approved the trial of civilians at military tribunals in a measure blasted by human rights campaigners as being tantamount to imposition of an undeclared martial law countrywide.
King Hamad bin Isa Al Khalifah ratified the constitutional amendment on April 3, 2017.