Asia-Pacific
Human Rights
India
Zionist puppet Modi summons ministers as citizenship law protests rage on
Indian Prime Minister Narendra Modi has summoned his government ministers to hold a meeting and discuss the security situation in the country following protests against a controversial anti-Muslim law.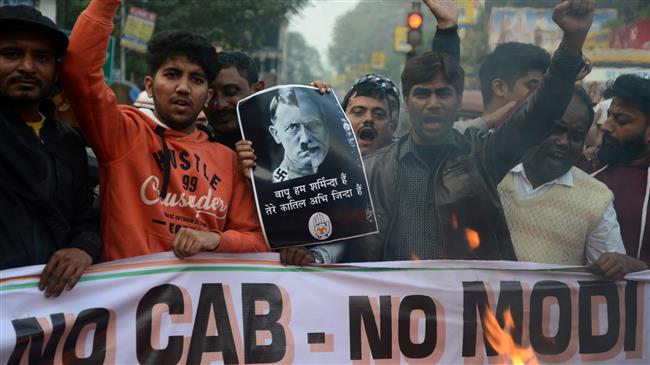 Government sources said Modi met his council of ministers in the capital, New Delhi, on Saturday to discuss security measures to end violent protests against a contentious citizenship law that the parliament passed last week, which critics say discriminates against Muslims and undermines the country's secular constitution.
Under the Citizenship Amendment Bill (CAB), migrants from Bangladesh, Pakistan, and Afghanistan will be allowed to claim Indian citizenship — but not if they are Muslims.
Media reports said at least 20 people have been killed and more than 100 injured in clashes between police and protesters since December 11, when the country's parliament passed the citizenship act.
Modi held the meeting as demonstrations continued on Saturday despite curfews and a draconian regulation to shut down protests.
India's most populous state, Uttar Pradesh, has seen the worst violence with nine people killed so far and several more in critical condition in hospital.
Death toll hits 9 as citizenship law protests spread in IndiaFresh clashes between Indian police and demonstrators erupted on Friday after more than a week of deadly unrest triggered by a citizenship law seen as anti-Muslim.
Rights activists in Uttar Pradesh, ruled by Modi's nationalist party, said police had raided their houses and offices to prevent them from planning fresh demonstrations. Authorities also shut schools across the state as fresh protests erupted on Saturday.
The heart of India's capital also witnessed street battles late Friday as police used water cannon and charged at protesters with batons.
A car was set ablaze and demonstrators were injured during the clashes at the Delhi Gate in the Old Delhi district. The altercations came as thousands reconvened at the Delhi Gate, following an earlier sit-in in the same area, after marching from India's biggest mosque, Jama Masjid, in the afternoon.
In Modi's home state of Gujarat, fresh clashes were also reported between security forces and demonstrators in Vadodara City.