Bahrain
Zionist Puppet S.Arabia and Bahraini Regimes support rebels in Syria but Suppress Peaceful ones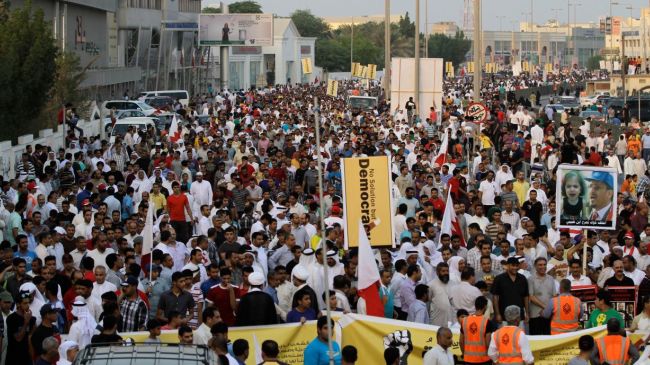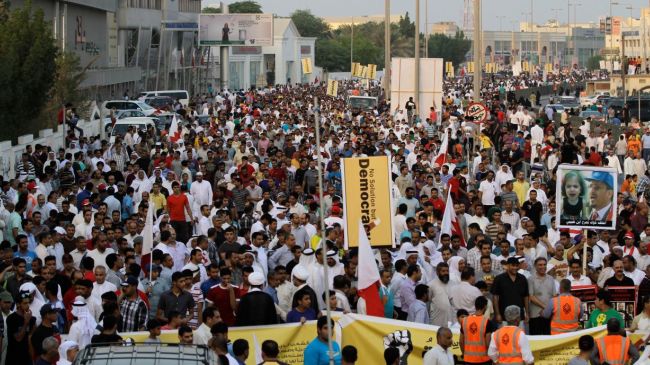 Clashes have erupted between Saudi-backed regime forces and protesters trying to enter a besieged village in eastern Bahrain, Press TV reports.
Activists say security forces on Sunday fired tear gas to disperse people heading to the village of al-Eker which is under clampdown since late Thursday when a policeman was killed in a bomb blast there.
Some reports say at least three human rights activists including Zainab al-Khawaja were arrested by security forces during the protest rally that started from the island town of Sitra, south of the capital Manama.
Khawaja, the daughter of a jailed opposition leader Abdulhadi al-Khawaja, said earlier that the protesters were carrying food and medical supplies for the residents of the besieged village.
Authorities have detained seven people in relation to the deadly blast.
On Saturday, several protesters were also arrested during a demonstration in Eker.
Bahrain's revolution began in mid-February 2011, when the people, inspired by the popular revolutions that toppled the dictators of Tunisia and Egypt, started holding massive demonstrations.
The Bahraini government promptly launched a brutal crackdown on the peaceful protests and called in Saudi-led Arab forces from neighboring Persian Gulf states to help crack down on the demonstrations.