Middle East
Palestine
Zionist regime attack in Damascus hits Palestinian resistance commander's home, kills his son: SANA
In a failed assassination attempt, the Israeli military has launched a strike against the home of a senior member of the Palestinian Islamic Jihad movement in the Syrian capital, Damascus, around the same time the regime killed a senior commander of the resistance group in the Gaza Strip.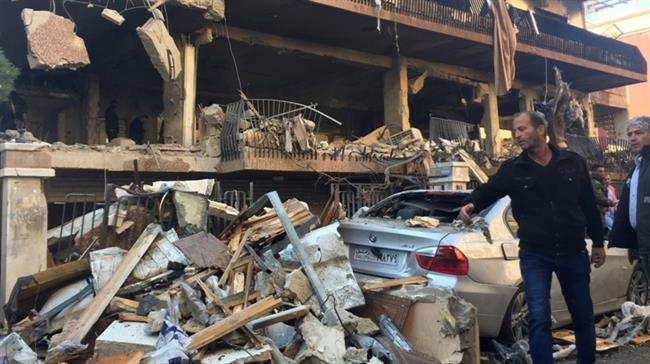 According to Syria's official SANA news agency, two rockets targeted the home of Akram Ajouri, a member of the Political Bureau of the Jihad Movement, "killing his son Muadh and another person" late on Monday.
In a statement, the Palestinian resistance movement blamed the attack on "the Zionist criminal enemy."
Syrian state media identified the building as a civilian home located adjacent to the Lebanese Embassy in Mezzah, a western district of the capital that is home to Damascus University and many foreign embassies.
They said six people were also wounded in the attack.
A number of photos emerged on social media showing the aftermath of the strike.
Earlier, state media reported that the country's air defense had fired on a "hostile target" in the town of Daraya, west of the capital.
Israel has carried out hundreds of airstrikes in Syria, including in the Golan Heights, most of them against what the Tel Aviv regime claims to be the positions of pro-Syrian forces.
Syria has called on the United Nations to adopt necessary measures to stop Israel's repeated acts of military aggression on the Arab country.
The attack in Damascus coincided with a similar targeted strike by Israel that killed senior Islamic Jihad commander Baha Abu al-Ata in the Gaza Strip, sparking a barrage of retaliatory rocket fire from the besieged enclave into the occupied territories.
Zionist regime kills resistance cmdr., Gaza fighters strike backThe Israeli military has assassinated a senior commander of Palestinian Islamic Jihad movement in an airstrike in Gaza, sparking a barrage of retaliatory rocket fire from the besieged strip.
The Islamic Jihad's military wing, Al-Quds Brigades, confirmed the death of Ata, 42, adding that the group was on "maximum alert." Ata's wife also lost her life during the Israeli air raid.
Both the Islamic Jihad and the fellow Hamas resistance movement have vowed a major response to Israel for killing Ata.
Shortly after the Israeli strike, Palestinians launched a salvo of rockets into the occupied territories, setting off sirens in Tel Aviv and a number of other cities.
The assassination is likely to fuel tensions between Tel Aviv and Gaza, which has been under a crippling siege by Israel since 2007 and witnessed three wars since 2008.