Palestine
Middle East
World News
Zionist regime considers 'nonlethal military aid' to Ukraine amid soaring tensions with Russia, says report
Zionist regime is considering expanding its military aid to Ukraine from "helmets and bulletproof vests" to "nonlethal military equipment" following a request made by the Biden administration, a report said, as tensions between Moscow and Tel Aviv soar over the conflict.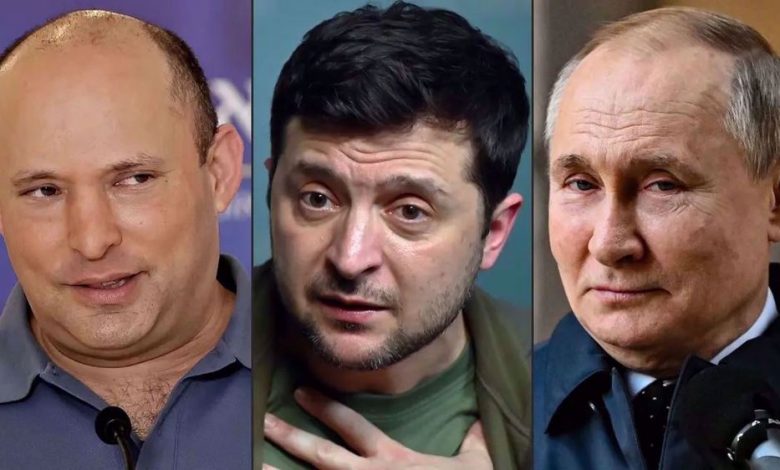 A senior Israeli official told Axios that the Israeli regime is considering the Biden administration's request, made last week, but it "will only provide nonlethal military equipment."
Last week, Israel sent a top military chief to Ramstein Air Base in Germany for a US-led meeting on sending weapons to Ukraine.
"The Biden administration made it clear to the Israelis that the US understands its complicated situation with Russia and appreciates what it has done so far in terms of aid to Ukraine, but hopes it could do more in providing military equipment," Axios quoted US and Israeli officials as saying.
The message, according to the report, was delivered during a meeting between White House national security adviser Jake Sullivan and his Israeli counterpart, Eyal Hulata, at the White House last week.
Haaretz also reported on Tuesday that Israeli officials are now "expected to support sending Ukraine military aid, albeit at symbolic levels, and still with hopes of keeping its relationship with Russia intact."
Israel will not consider sending offensive arms or advanced defensive technology, such as the Iron Dome anti-missile system, but will attempt to find equipment that can be donated without sparking a crisis with Moscow, Haaretz quoted an Israeli official as saying.
"There's still no plan to provide offensive weaponry, but only defensive arms," the source was quoted as saying.
Russia launched a military campaign against Ukraine on February 24 with the aim of "de-Nazifying" the country and preventing it from joining NATO.
Although it tried to remain neutral, Israel was soon pushed to join Western countries in condemning Russia and accusing Moscow of committing war crimes, despite the fact that the two sides had been on good terms.
Last month, Russia threatened Israel with retaliatory measures if the Tel Aviv regime supplies Ukraine with military equipment and aid. It came after Israeli minister for military affairs Benny Gantz said Israel will provide Ukraine with helmets and flak jackets.
Kremlin denies Putin apologized to Bennett
Tensions between Israel and Russia have reached new peaks since Russian Foreign Minister Sergei Lavrov said Adolf Hitler had "Jewish origins."
"So when they say 'How can Nazification exist if we're Jewish?' In my opinion, Hitler also had Jewish origins, so it doesn't mean absolutely anything. For some time we have heard from the Jewish people that the biggest anti-Semites were Jewish," Lavrov said in an interview with Italian TV Media Set on Sunday.
The comments drew a sharp rebuke from Israel, with the regime's foreign minister, Yair Lapid, saying that while Israel makes "every effort" to maintain good ties with Russia, "there's a limit and this limit has been crossed this time."
"The government of Russia needs to apologize to us and to the Jewish people," Lapid added.
Israel also summoned Russia's ambassador for clarification.
Russian President Vladimir Putin and Israeli prime minister Naftali Bennett talked over the phone on Thursday and according to the Israeli account of the call, Putin apologized for Lavrov's remarks.
"The prime minister accepted President Putin's apology for Lavrov's remarks and thanked him for clarifying his attitude towards the Jewish people and the memory of the Holocaust," Bennett's office said in a statement.
However, Russia's readout of the phone call did not mention an apology. It said Putin and Bennett had a "thorough exchange of views on the situation in Ukraine."
"The president of Russia recalled that of the six million Jews tortured in ghettoes and death camps and killed by the Nazis during punitive operations, 40 percent were Soviet citizens," said the Kremlin's readout. "In turn, Naftali Bennett highlighted the Red Army's decisive contribution to the Victory over Nazism."
Later on Thursday, Kremlin spokesman Dmitry Peskov was asked by Russian state media RIA Novosti whether the two sides touched upon Israel's possible arms supplies to Ukraine and Lavrov's statements.
"The topics of the conversation were listed in the statement," Peskov asserted.
'Russia can punish Israel in Syria'
Observers say Israel's shift in favor of Ukraine will further increase tensions between Moscow and Tel Aviv and turn the current war of words into reciprocal actions from Russia.
"The Zionist regime has traditionally had good relations with Ukraine and Russia, and from the very beginning of the Ukraine crisis, it has tried to maintain those relations by taking the middle ground, but the escalation of the crisis and the open support of the West for Ukraine created conditions that made it impossible for Tel Aviv to stick to that approach, and the regime is now practically in the anti-Russia front," wrote Nour News, affiliated to Iran's Supreme National Security Council (SNSC).
Russia's silence on Israel's repeated acts of aggression against Syria could change as a result of Tel Aviv's stance on the Ukraine war, it said.
"If Russia decides to use its capabilities in Syria to punish the Zionist regime, it can be argued that the crisis in Ukraine has been extended to the Mediterranean," it added.