Palestine
Zionist regime forces arrest dozens of Palestinians across W. Bank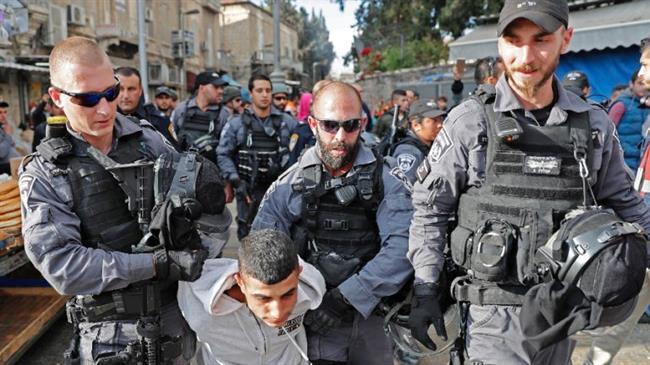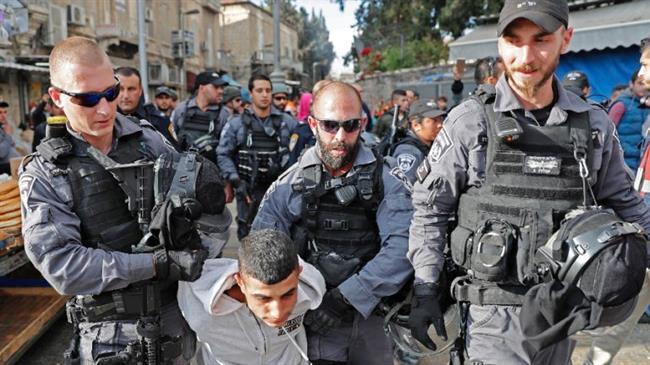 Rabid dog Israeli military forces have reportedly arrested at least 43 Palestinians, including a woman, during separate overnight operations across the occupied West Bank. 
Local sources, speaking on condition of anonymity, said Israeli military vehicles rolled into the northern West Bank city of Jenin, and violently ransacked houses before taking Udayy al-Baajawi and Mahdi Abu al-Hassan away to an unknown location.
Israeli soldiers also stormed the northern West Bank city of Qalqilya, and detained three Palestinians there. They were identified as Hamada Amin Shaath, Muhammad Nael Salmi and Mahmoud Qattawi.
In the Israeli-occupied city of Jerusalem al-Quds, Israeli forces detained 11 Palestinians, including a husband and wife.
Three Palestinians were also detained in the southern West Bank city of al-Khalil (Hebron). Palestinian officials identified them as Ihab Numan al-Rajabi, Muhammad Nabil al-Qiq and Ayham Wael Ajarmeh.
The rest of Palestinians were arrested during raids on residential neighborhoods in other parts of the West Bank.
More than 7,000 Palestinians are reportedly held at Israeli jails. Hundreds of the inmates have apparently been incarcerated under the practice of administrative detention, a policy under which Palestinian inmates are kept in Israeli detention facilities without trial or charge.
Some Palestinian prisoners have been held in administrative detention for up to eleven years.
Palestinian inmates regularly stage hunger strikes in protest at the administrative detention policy and their harsh prison conditions in Israeli jails.
According to reports, at least 13 Palestinian lawmakers are currently imprisoned in Israeli detention facilities. Nine of them are being held without trial under administrative detention.