Palestine
Zionist regime forces attack Palestinian protesters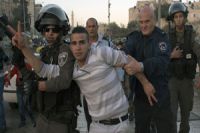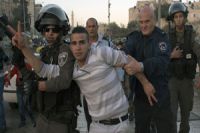 Zionist regime's forces have attacked Palestinians in East al-Quds during a protest to condemn the murder of three people in the occupied West Bank.
According to Press TV, on Saturday, the clashes took place after Palestinians gathered outside the Old City in East al-Quds in protest to the martyrdom of the three Palestinians in the city of Jenin in the northern West Bank, who were shot dead by Zionist troops.
The protesters chanted anti-Zionist slogans as they waved the Palestinian flags at the Damascus Gate of the Old City.
The Zionist troops used tear gas against the protesters and detained some of them.
Also in the West Bank city of Ramallah, dozens of Palestinians blocked a checkpoint, slamming a Zionist regime troops' overnight raid.