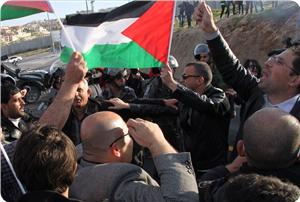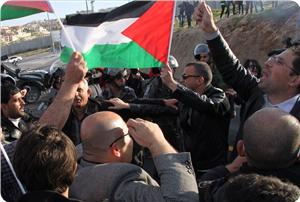 The Israeli occupation forces (IOF) violently attacked a wedding procession at Hizma checkpoint in occupied Jerusalem and prevented the groom and his family from crossing to Nazareth city where his bride was.
Hazem Abu Hilal, a groom from Abu Dis town east of Jerusalem, moved along with his relatives and invitees in procession singing and dancing until they arrived at a military checkpoint in Hizma town where he was barred from crossing to the other side to complete his wedding ceremony and take his bride home with him.
The Israeli soldiers at the checkpoint showered the wedding procession with a barrage of tear gas grenades to disperse them and tried to physically attack the attendees.
The groom condemned in a press statement to the Palestinian information center (PIC) what happened at the checkpoint as a racist act and part of Israel's policy against the reunion of Palestinian couples from the West Bank and Jerusalem.
For his part, secretary-general of the popular initiative Mustafa Al-Barghouthi, who participated in the wedding, also told the PIC that these newly-weds cannot be together because of Israel's racist policies against the Palestinian people.
Barghouthi added that such Israeli racist practices are illegal under international law and reflect, in every sense of the word, the apartheid system it pursues against the Palestinians.