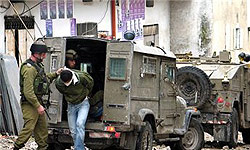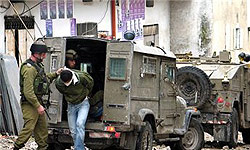 Israeli forces detained 10 people overnight Monday, locals and Israel's army said.
Badawi Khalil and Aziz Nader Alawnah, both 20, were detained in Azmut village in Nablus, locals said. Hawash Udeili, 27, was arrested in the Nablus village of Osarin, and university student Suleiman Abu Shihab, 28, was arrested in Azzun village in Qalqiliya, Ma'an reported.
In the Hebron area, Muhammad al-Titi, 18, and Safi Ayman, 18, were detained in el-Arrub refugee camp, locals said, and Ahmad Khalil, 25, and Ahmad Saberneh, 22, were detained in Beit Ummar.
An Israeli army spokeswoman said 10 people were detained for security questioning overnight, two in Azmut, two in Hebron, two in Beit Ummar, one in Beitunia, one in Azzun, and two in Beit Sira.