Middle East
Palestine
Zionist Regime Warplanes Strike Gaza after Visit by Egyptian Delegation
Zionist warplanes pounded Gaza early Tuesday, hours after Egyptian security officials visited the besieged enclave in an attempt to defuse tensions between the Palestinian Resistance and the Zionist regime.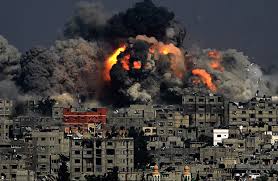 Occupation army confirmed the strikes, claiming they hit underground infrastructures belonging to Hamas Resistance movement. It linked the air strikes to explosive and arson balloons launched from the Gaza Strip to the occupied territories.
Meanwhile, AFP news agency quoted a Hamas source as saying that the Resistance movement held talks with the Egyptian delegation in Gaza on Monday before it left the territory for meetings with the Israelis and the West Bank-based Palestinian Authority.
It was expected to return to Gaza after those talks were concluded, the source added.
"The occupation continued its aggression and carried out air strikes on Gaza after midnight," the Hamas source said, adding that the strikes were seen as a "negative response" to the truce feelers.
There were no casualties in the strikes, he added.
Gaza security sources and witnesses said the strikes hit Hamas lookout posts at Rafah in the south of the territory and Beit Lahia in the north.