Palestine
Zionist regime's Butcher Shimon Peres awarded in Davos!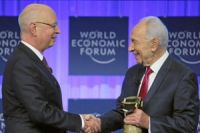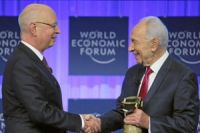 Zionist regime's President Shimon Peres has been awarded during a special ceremony at the World Economic Forum (WEF) in Davos, Switzerland.
According to Press TV, the Zionist criminal received the "Spirit of Davos" award from WEF Founder Klaus Schwab on Friday.
The Zionist regime forces have martyred thousands of people during invasions of Palestinian lands, Egypt and Lebanon since 1948.
The Tel Aviv regime conducts airstrikes and ground attacks against the besieged Palestinian territory of the Gaza Strip on an almost regular basis.
Zionist regime also denies about 1.7 million people in Gaza their basic rights, including the freedom of movement and the right to decent living, work, health and education.