Middle East
Palestine
Zionist Regime's Weakness Revealed in Recent Gaza War
Abdel Bari Atwan, the editor-in-chief of Rai al-Youm newspaper, underlined that the weakness and incapability of Israel was displayed during the past two days of airstrikes against the Palestinians in Gaza.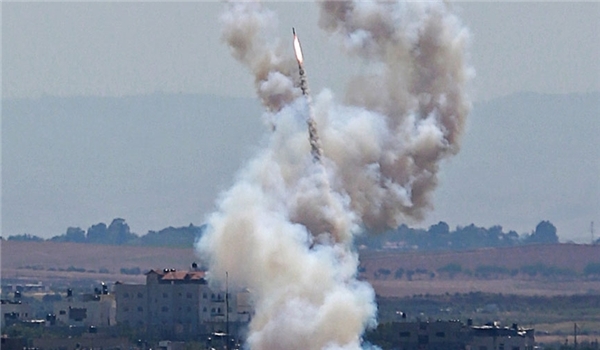 Atwan wrote on Monday that four things were revealed in the past two days of Gaza war; first, the enemy's deterrence power has weakened a lot and it is now the resistance forces who are imposing their plans and decide about the rules of the conflict.
According to him, the second point is that hundreds of thousands of Israelis have fled from their residences in the Southern parts of the occupied Palestinian regions towards the North for fear of their lives under incoming Palestinian missiles.
"The third issue is the upcoming Eurovision 2019 and anniversary of Israel's creation ceremonies," Atwan said, adding that if the war continued for two weeks, all these plans would be called off and Israel would be known as an unstable territory.
He also noted that the Persian Gulf Arab states which are after normalization of ties with Israel are now in hard conditions before their people because Tel Aviv's weakness against the resistance groups and the US failure in zeroing Iran's oil exports have been revealed.
Tensions started in Gaza on Friday following the killing of four Palestinians, two in an Israeli air raid in Southern Gaza and two during the regime's live fire at anti-occupation protesters near a fence separating the blockaded coastal enclave from the occupied territories.
At least 24 Palestinians, including two pregnant women and a 14-month-old baby girl, have so far lost their lives since the beginning of the Israeli regime's brutal attacks.
The Tel Aviv regime claims about 450 rockets have been fired at the occupied lands over the past days. The Israeli army says its warplanes have targeted some 180 sites in the Gaza Strip.
The latest rocket fire from Gaza killed a 60-year-old Israeli man. A total of some 83 Israelis have also been wounded.
The Gaza Strip has been under an Israeli siege since June 2007, causing a decline in living standards as well as unprecedented unemployment and poverty.
Israel has also launched several wars on the Palestinian coastal sliver, the last of which began in early July 2014.
Israeli Prime Minister Benjamin Netanyahu stated on Sunday that he had ordered the army to "continue the massive attacks" against targets in Gaza and boost "ground, armored, and artillery forces" around there.