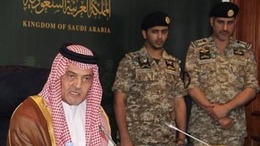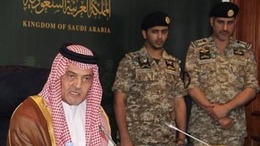 Saudi Arabia warned Wednesday that Iraq is at risk of facing a civil war with severe repercussions on the region.
FaisalDuring an opening of an Islamic bloc meeting in the Red Sea city of Jeddah, Foreign Minister Saud al-Faisal voiced his concerns, saying the unrest in Iraq "carries warning signs of a civil war with unpredictable consequences."
Al-Faisal reiterated Saudi's claims that Iraqi Prime Minister Nuri Al-Maliki's "exclusion of Iraq's Sunni minority in Iraq is responsible for the violence."
Saudi Arabia has accused Syria's three year unrest for collapsing the UN-brokered peace talks in February and for setting up the "climate for internal unrest" in Iraq.
Their failure has led to an "escalation in the violence and genocide carried out by the Syrian regime against its own people" and "diminished chances for a political solution," Al-Faisal claimed.
Meanwhile, the Iraqi government fired back, blaming Saudi Arabia for sponsoring and encouraging the terrorist forces attacking the Iraqi government.
"We hold [Saudi Arabia] responsible for what these groups are receiving in terms of financial and moral support," said the government in a statement, before calling out Riyadh for "siding with terrorism."
The London-based Al-Hayat newspaper said last month that leaflets were distributed in two Riyadh neighborhoods promoting the Islamic State in Iraq and the Levant, which the Saudi Arabia considers a terrorist organization. The militant group is also using social media, such as Twitter and YouTube, to recruit young Saudi men, reports said.