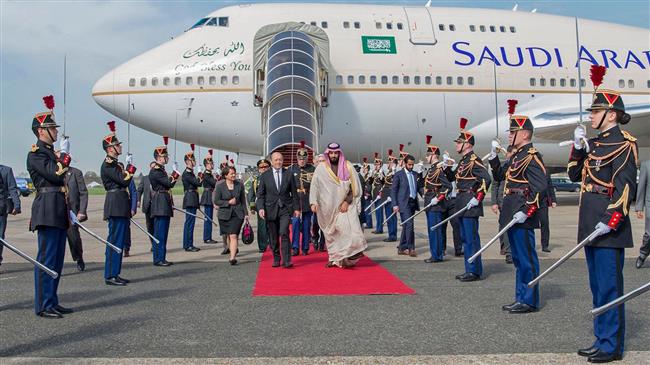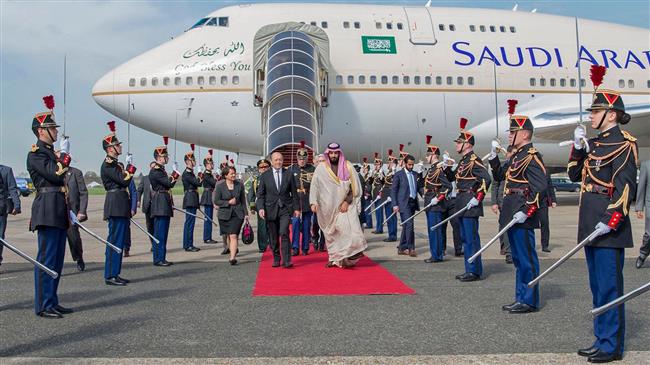 Saudi Arabia's crown prince has kicked off a flamboyant three-day tour of Paris amid the French public's rage at the country's arms sales to the kingdom.
Mohammed bin Salman, who also heads the Saudi armed forces, dined with President Emmanuel Macron at Louvre museum on Monday, and was scheduled to meet with French Defense Minister Florence Parly.
Activists planned to hold protests during the visit overshadowed by lavish weapons sales by the world's third biggest arms exporter to the kingdom, which has been attacking Yemen for more than three years now.
The Saudi invasion, which seeks to restore Yemen's former government of Abd Rabbuh Hadi, has cost thousands of lives, turning Yemen into the scene of the world's worst humanitarian crisis.
Macron faces seething criticism over French weapon exports to Saudi Arabia, including Caesar artillery guns, sniper rifles and armored vehicles used in the war on Yemen.
Major French arms producers, including Dassault and Thales, have sizable contracts with Saudi Arabia. In recent years, Riyadh has bought French tanks, armored vehicles, munitions, artillery, and navy ships.
French daily Les Echos wrote on Friday that another deal could be signed for the kingdom to purchase navy patrol boats from a French producers, while Le Telegramme reported a possible deal for French Caesar artillery cannons.
According to a recent poll by the YouGov data analytics firm, 75 percent of French people want Macron to suspend arms exports to countries involved in the war on Yemen, including Saudi Arabia and the United Arab Emirates.
The visit comes after a tumultuous period at home that saw a major military shake-up and a royal purge as the crown prince consolidates power to a degree well beyond that wielded by previous rulers.
It follows a weeks-long tour of the United States, Britain and Egypt where he courted a host of multimillion dollar military and other deals.