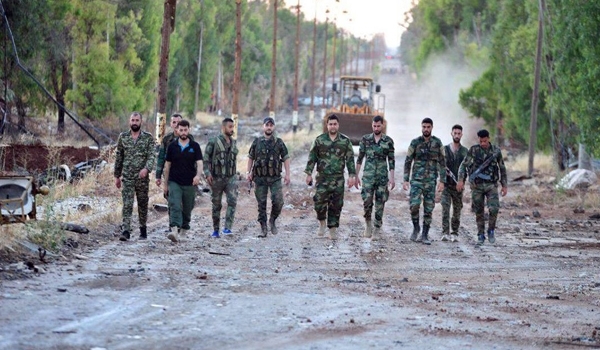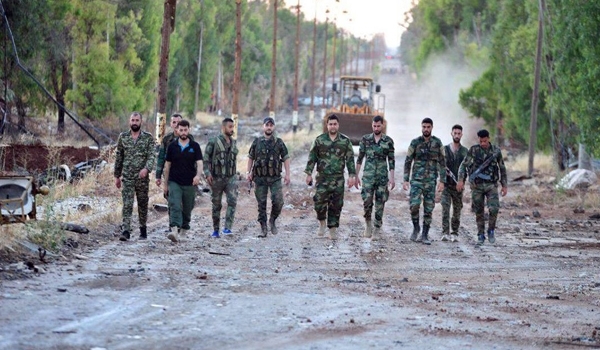 The Syrian Army soldiers found a large volume of medicines and medical equipment made by Arab states, including by the Saudis, at the positions captured from ISIL in Hawz Yarmouk region in Southwestern Dara'a on Tuesday.
The army men stormed ISIL strongholds from the Eastern and Western directions of the small towns of Abedeen, Tal Qaytar and Ein Qazala and captured the town of al-Shajarah.
A field source said that ISIL terrorists did their best to maintain control over al-Shajarah that was their main base in the region but failed, adding that the entire Hawz Yarmouk in expected to be freed soon.
The source further said that the army's engineering units started to carry out cleansing operation in al-Shajara and found several arms depot, detention centers and field hospitals supplied with Jordanian, Kuwaiti and Saudi-made drugs and medical equipment.
The army forces further discovered some parts of the US-made anti-tank TOW missiles, dollar bank notes and Jordanian telecommunication devices in the arms-making workshops of the terrorists while cleansing the region.
The army men are now advancing towards the last strongholds of ISIL in the villages of Beit Areh, Ma'ariyah and al-Qusayr, the source said, adding that the remaining pockets of the ISIL terrorists have fled to Wadi Hayt.
The army soldiers continued their large-scale operation against ISIL in Hawz Yarmouk in Southwestern Dara'a and captured the village of Mouzreh and the town of Abedeen West of the town of al-Shajarah.
In the meantime, the army's artillery and missile units opened heavy fire at ISIL's movements and positions, inflicting major losses on the terrorists.
The remaining pockets of ISIL have fled towards other regions in Southwestern Dara'a after they suffered heavy defeats in the depth of Hawz Yarmouk.
In the meantime, a field source said that the army has tightened siege on ISIL trapped in the town of al-Shajara after the government forces captured the town of Abedeen.