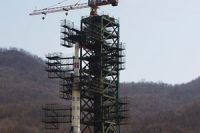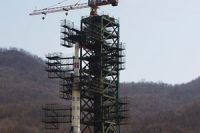 The European Union has threatened North Korea with new sanctions following Pyongyang's launching a long-range rocket.
According to AFP, the warning came on Wednesday after North Korea launched the rocket and successfully placed a satellite into orbit.
EU Foreign Policy Chief Catherine Ashton said "The EU will consider an appropriate response, in close consultation with key partners… including possible additional restrictive measures."
According to an unnamed Western diplomat, the UN Security Council is scheduled to meet at the request of the US and Japan later on Wednesday during a closed-door session to discuss the launch of the rocket.
The diplomat stated "The Japanese and the Americans have requested a Security Council meeting, which will take place late Wednesday morning" around 11:00 a.m.
A previous launch in April failed when the rocket disintegrated in the air soon after blastoff and fell into the ocean.