Syria
Zionist servant terrorists defy truce, shell exit corridor in E Ghouta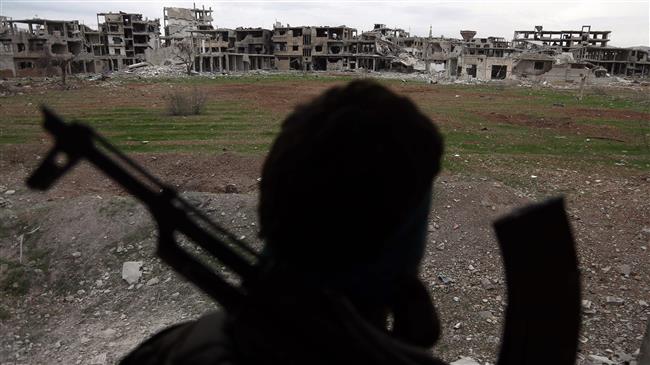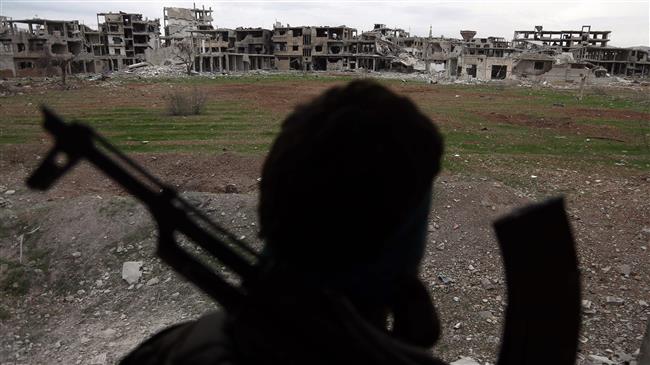 Terrorist groups have again shelled the safe corridor for civilians to leave Eastern Ghouta, which has turned into a launch pad for militant attacks against Damascus amid the silence of mainstream media that have focused their efforts on painting a negative portrait of the government's anti-terror operations there.
Syria's official SANA news agency reported Friday that the terrorists in the Damascus suburb targeted the humanitarian corridor out of Eastern Ghouta with three shells to prevent the civilians from fleeing the militant-held area.
The latest attacks came shortly after a fourth humanitarian pause in the fighting took effect in Eastern Ghouta.
An activist group has recently posted video footage online, depicting how the country's capital has been "living a nightmare" for years at the hands of the terrorists targeting it from the city's suburb of Eastern Ghouta.
The video by The Truth about Syria features a compilation of recordings captured during the near-daily mortar barrages and their aftermaths, as well as pictures of some of the children, who were killed during the raids.
It is accompanied by superimposed description pointing out how the terrorists would spare military targets on all occasions, striking instead civilian centers, including residential areas, hospitals, and schools.
The Eastern Ghouta-based groups launched 340 mortar shells on the capital, killing 19 civilians, including three children, and wounding 172 others, over seven days towards the end of February, the description reads.
"From time to time they would also use some heavier rockets," it notes.
After losing most of the Syrian territories in their control, militants are now largely concentrated in the Damascus countryside.
The footage also recounts the suffering of Alawite families in the capital and its surroundings.
The compilation reminds how the Jaysh al-Islam terrorist group kidnapped entire Alawite families from the city of Adra near Damascus in December 2013, burning many of their members alive in bakery furnaces, throwing some off rooftops, and taking many, mostly women and children, hostage.
Frame grab from an undated video shows how militants would use caged Syrian civilians as "human shields."
It shows how the terrorists paraded children from the community in a cage in Eastern Ghouta on one occasion.
Syrian government forces have been pounding terrorist positions in the area to retake it and free a large number of civilians struggling there with malnutrition and a lack of basic medical supplies.
Mainstream media have, however, taken a double standard approach in reporting the Eastern Ghouta situation, turning a blind eye to the atrocities of militants and giving one-sided coverage of the Syrian government's Russian-backed offensive against the terrorists holed up there.
Later today, the United Nations Human Rights Council is set to hold an emergency session on Eastern Ghouta at the request of Britain.