Middle East
Palestine
Zionist settler runs over, kills Palestinian man in occupied West Bank
A zionist settler has run over and killed a Palestinian man in the northwestern part of the occupied West Bank.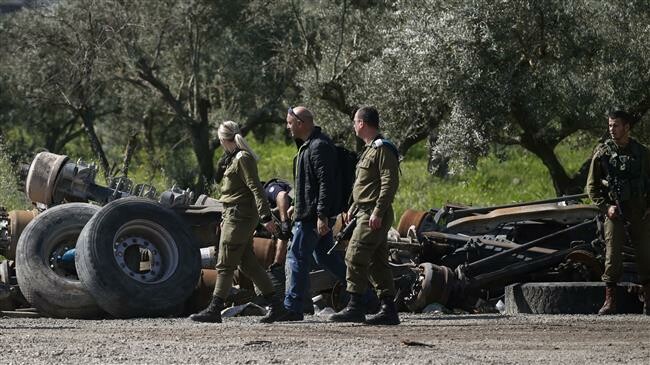 Palestinian media say that the 45-year- old victim, identified as Abdul Hafiz Barham, was struck east of Qalqilya on Tuesday.
According to witnesses, the Palestinian man was taken to a hospital in Nablus, where he succumbed to his injuries.
Last month, a Palestinian female teacher also died in a run-over attack by an Israeli near the city of Bethlehem.
There have been a series of "hit-and-run" incidents targeting Palestinians in different parts of the West Bank over the past years, with most of them going uninvestigated by Israeli authorities.
Palestinian succumbs to Israeli-inflicted wounds
Meanwhile, a Palestinian man in Gaza has died weeks after being critically injured during clashes between Israeli troopers and Palestinian protesters participating in an anti-occupation rally along the border fence between the besieged strip and the Israeli-occupied territory.
Palestinian Ma'an News Agency reported that Mohammad Abduil-Javad succumbed to his wounds on Tuesday.
He was shot in the leg by Israeli forces during a "Great March of Return" protest rally east of Rafah City on April 24.
Tensions have been running high near the fence separating Gaza from the occupied territories ever since protest rallies began in the Gaza Strip on March 30 last year.
More than 260 Palestinians have been killed by Israeli forces in those protests. Over 26,000 Palestinians have also sustained injuries.