Palestine
Zionist settler shot dead in southern West Bank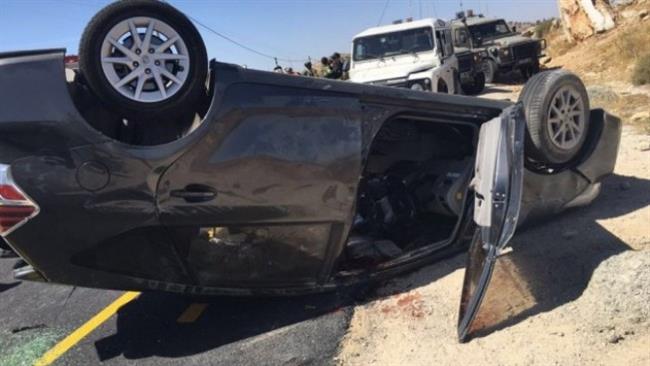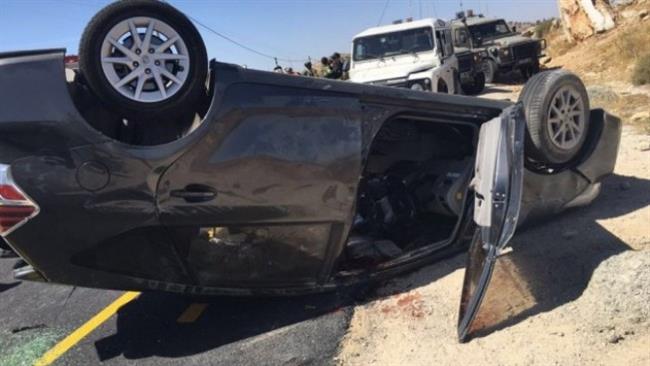 A zionist Israeli settler has been killed and three members of his family sustained injuries after their car came under gunfire from a passing vehicle near the occupied southern West Bank city of al-Khalil (Hebron).
The Israeli army said in a statement that an assailant opened fire at the family car as it was travelling near the al-Fawwar refugee camp, south of al-Khalil, situated 30 kilometers (19 miles) south of al-Quds (Jerusalem), on Friday afternoon. The vehicle crashed as a result, and flipped over.
Israel's emergency and rescue service, Magen David Adom, said the dead man was in his 30s, and his wife sustained serious head injuries from the gunfire.
The couple's baby and 14-year-old son were moderately wounded in the attack.
The development came shortly after a Palestinian man lost his life after Israeli military forces fired an excessive amount of tear gas to suppress a protest by a group of Palestinians seeking to cross the Qalandiya checkpoint into the occupied Old City of al-Quds to attend prayers at al-Aqsa Mosque.
The man, identified as 63-year-old Muhammad Mustafa Habash, was pronounced dead at Ramallah Governmental Hospital after Palestinian doctors and medical staff failed to save his life.
The victim, who hailed from Asira ash-Shamaliya town located six kilometers (3.7 miles) north of the northern West Bank city of Nablus, was among the 40 Palestinians, who suffered severe tear gas inhalation during clashes at the checkpoint earlier in the day.
Witnesses said Israeli forces initially prevented Palestinian Red Crescent paramedics from attending to Habash, but Palestinian medics could eventually find the way to reach him.
Earlier on Friday, Israeli forces shot dead a 27-year-old Palestinian woman, identified as Sarah Tarayra, after she allegedly attempted to carry out a stabbing attack near the revered Muslim religious monument of the Ibrahimi Mosque in the city of al-Khalil.
The occupied Palestinian territories have been the scene of heightened tensions since August 2015, when Israel imposed restrictions on the entry of Palestinian worshipers into the al-Aqsa Mosque compound in East al-Quds.
Palestinians are angry at increasing violence by Israeli settlers at the al-Aqsa Mosque compound, saying the Tel Aviv regime seeks to change the status quo of the sacred site.
More than 220 Palestinians have lost their lives at the hands of Israeli forces since the beginning of last October.