Palestine
Zionist Settlers Vandalize Palestinian Property in West Bank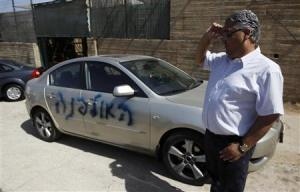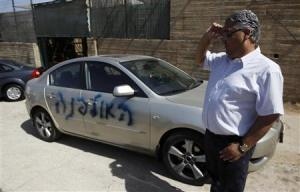 Zionist extremists have vandalized Palestinian property in the West Bank, making graffiti in the scene, police said Thursday.
Israeli settlers
Israeli Spokesman Micky Rosenfeld told AFP that "a number of suspects went into the village of Burqa" east of the Palestinian political capital of Ramallah, "and attempted to set fire to three vehicles". "Graffiti was found at the scene," he said.
An AFP correspondent said the slogans "Death to Arabs", "Regards from Geulat Zion", "We love you Tomer Hazan" and "Price tag" were scrawled on the wall of a mosque.
Geulat Zion was a settler outpost in the northern West Bank that the Israeli army demolished on Wednesday. Settlers then rampaged through the nearby Palestinian village of Jalud, setting fire to an olive grove and stoning cars and the local elementary school.
"Price tag" is the term used by Jewish extremists carried out in pursuit of their hardline agenda.
Earlier this week, suspected Jewish extremists vandalized two cars in east Jerusalem and scrawled graffiti blaspheming against the Prophet Mohammad.