Palestine
Zionist Slaughterer Israel detains 10 Palestinians in West Bank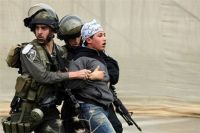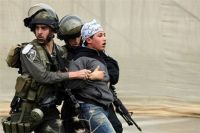 Israeli forces detained ten Palestinians in the early hours of Tuesday in a crackdown in the occupied West Bank.
Four of the detainees were relatives of Nour al-Din Abu Hashiya who stabbed an Israeli soldier in Tel Aviv on Monday, eyewitnesses said.
According to the witnesses, the Zionist regime's army stormed Askar refugee camp in the Northern city of Nablus and detained four members of Abu Hashiya's family, including his father.
The Israeli cabinet has already decided to demolish Abu Hashiya's home, Israel's daily Yediot Ahronot quoted a cabinet official as saying.
Tension has been running high in the region since Israeli authorities sealed access to the Al-Aqsa Mosque complex in occupied East Al-Qods.