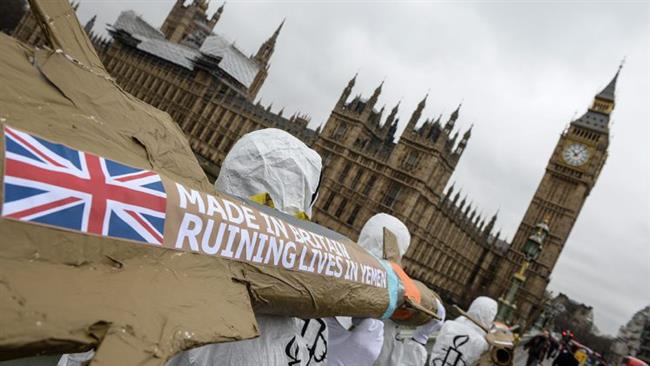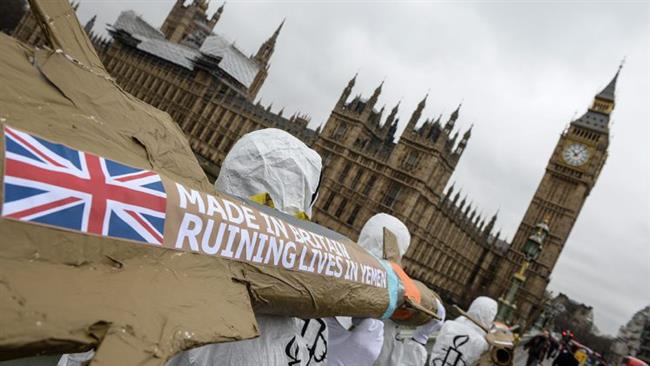 The UK government has rejected calls by lawmakers to temporarily stop arms sales to Saudi Arabia over the Kingdom's war crimes in Yemen.
Britain has signed off £3.3 billion in arms sales to Saudi Arabia since March 26, 2015, when it launched a war in Yemen in order to undermine the Houthi Ansarullah movement and restore power to Saudi-backed former President Abd Rabbuh Mansur Hadi.
Two committees of MPs recently released a joint report, urging the government to suspend arms sales until the United Nations conducts an investigation into the Saudi atrocities, The Independent reported Monday.
The committees include the International Development and Business Committee, which both sit on a parliamentary 'super committee' known as the Committee on Arms Export Control (CAEC).
The Foreign Affairs Committee, a third constituent committee of CAEC, did not endorse the report, but suggested that British courts should decide the legality of the sales.
Meanwhile, a legal challenge has been launched by Campaign Against the Arms Trade, which is set to be heard in the coming months.
The UK government has rejected the calls by the two committees, saying it "is confident in its robust case-by-case assessment and is satisfied that extant licenses for Saudi Arabia are compliant with the UK's export licensing criteria."
"We continue to assess export license applications for Saudi Arabia on a case-by-case basis against the Consolidated EU and National Arms Export Licensing Criteria, taking account of all relevant factors at the time of the application," The Independent quoted the government as saying in an official response.
The government said that it would continue its arms sales to any country, unless its assessments show that the items are being used in violation of UN human rights laws.
"The key test for our continued arms exports is whether there is a clear risk that those exports might be used in a commission of a serious violation of International Humanitarian Law (IHL)," it added.
The response was issued by British Foreign Secretary Boris Johnson, Defense Secretary Sir Michael Fallon, International Trade Secretary Liam Fox and International Development Secretary Priti Patel.
Andrew Smith of Campaign Against the Arms Trade told The Independent that "the government is in denial about the devastating impact of the Saudi-led bombardment and its own complicity in it."
Smith called the response "very weak," saying that it is indicative of the fact that "arms company profits are still being prioritized over the human rights and lives of Yemeni people."
He noted that those who issued the response "could stop the arms sales right now" instead of "offering uncritical military and political support" to Saudi Arabia.
The UK government is "helping arms companies like BAE to sell even more weapons" to the Saudis, he added.
Since the beginning of the aggression, almost 10,000 people, including over 2,000 children, have been killed.
London has been one of the biggest suppliers of weapons to Riyadh for 40 years.