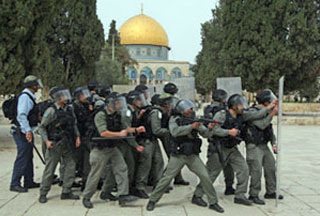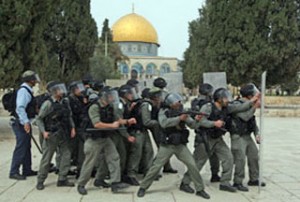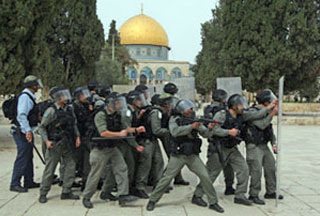 Israeli police have barred men under 50 from attending prayers at the Al-Aqsa Mosque in East Jerusalem Al-Quds on Sunday due to fear of another round of clashes.
On Friday, Israeli forces clashed with Palestinian worshippers after Friday prayers at the Al-Aqsa Mosque, injuring one Palestinian and arresting three others.
In a measure meant to prevent more violence, on Saturday the Israeli police issued an order stating that no male under the age of 50 and no visitors from other religions will be allowed to enter Islam's third holiest site for prayers on Sunday. Women will not be affected by the order.
Tension has risen since March 5, when Israeli police attacked Muslim worshippers after Friday prayers at the Al-Aqsa Mosque and imposed indefinite restrictions.
And the situation took a turn for the worse following Israel's announcement last Tuesday that it plans to build another 1,600 homes for settlers in mostly Arab East Jerusalem Al-Quds, which Palestinians say should be the capital of their future state.
Israel's illegal settlement construction continues despite international calls for a complete freeze on building on occupied Palestinian territories.
Israeli officials have insisted that they will not accept a 'complete freeze' on settlement construction and that the plan to build homes for settlers in East Jerusalem Al-Quds will not be cancelled.