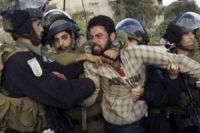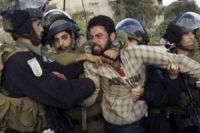 Widespread clashes have erupted between the Palestinians and Zionist forces in the occupied East al-Quds, following the martyrdom of a Palestinian teenager.
On Sunday, Mohammed Sinokrot attained martyrdom from injuries after being shot by Zionist forces in the Wadi al-Joz neighborhood on August 31.
Following the news of his martyrdom, clashes broke out between Palestinians and Israelis in several areas of the occupied city, including Wadi al-Joz, the Issawiya and At-Tur.
Reports said that no one was injured in the clashes.
The 16-year-old Palestinian is said to have been shot in the head on his way to a mosque.
His uncle Muhtadi Sinokrot said "There were no clashes in the area, he went for night prayers at the mosque and was bringing bread back home," "This is an assassination."
The clashes in the area occurred two weeks after a ceasefire ended a 50-day Israeli onslaught on the besieged Gaza Strip.