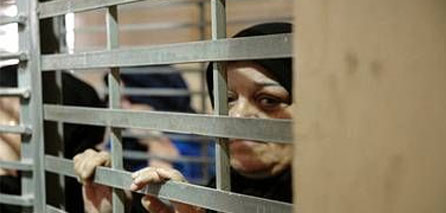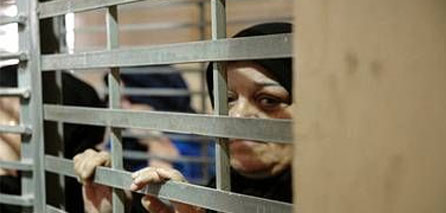 What is greater than the loss of mother? The house is empty and no meaning of existence inside it.
Captive Salwa Abdul Aziz Mohammed Hassan (Um Munther), was born on 16.4.1958 from the city of Hebron, a mother of six children, three females and three males, detained at Etzion checkpoint near the city of Bethlehem, on 19/10/2011, and was sentenced to 21 months in prison.
The captive "Um Munther", who works handmade, was going to the city of Bethlehem, to be surprised at Etzion checkpoint that she became under detention, and she was handcuffed and placed inside the jeep of the Israeli military to transfer her to the prison.
Abu Munther the captive's husband, confirmed to Ahrar center for Prisoners studies and human rights, that since the arrest of his wife, the family was unable to visit her only once, because of the security refusal to the family members.
Abu Munther added, that the family is greatly worried about um Munther because she suffers from high blood pressure, nerve pain in the neck vertebrae, and the family looks forward to allow them to visit her, especially since the Israeli prison administration does not offer her only painkillers.
Abu Munther, said that his wife is the basis of his house, the boys miss their mother very much.
Abu Munther added, that the most beautiful moment was when their sons , Monther and Rizk had new babies, it was very difficult moment, because um Munther was always dreaming to see her grandchildren, to play with them, but now they grow up away from her eyes.
Rula Hassan, the captive's daughter, 24 years old, who is married, says to the center that she and her three sisters who are married were going always and be together in their parent's house much more before the arrest of their mother, but now they do not go there often, and even gathered, because the meeting is without any taste without their mother captive.
Now captive Salwa Hassan, sits in Hasharon Prison with 13 of her sisters prisoners, who suffers the warden's injustice, the darkness of the prison and brutality, and no one know their situation except God.
The captive Hassan, has two sons who were arrested, Ibrahim 30 years was arrested in 2002 and sentenced to eight years in prison, and her eldest son 32-year-old Munther was arrested many times, and spent four years in prison.
For his part, Fuad Al-Khuffash said that the occupation does not take into account elderly or young in his arrests, um Munther is the oldest prisoners in Israeli jails 55-year-old and despite that the occupation insists on detaining and arresting her.
He added that nearly 14 Palestinian female prisoners are living difficult situations in the prisons of the occupation, 3 of them were arrested during the month of February of this year.