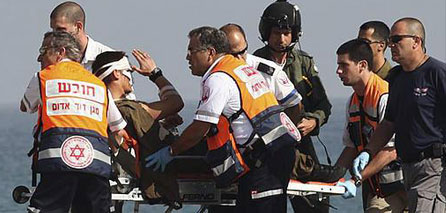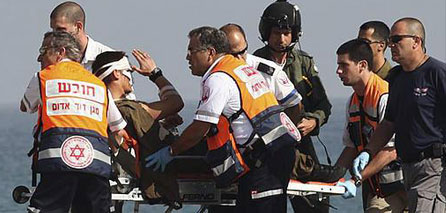 The Zionist occupation army confessed on Saturday 26/6/2010, that more than 170 Zionist soldiers were injured last year in weekly demonstrations taking place in the villages of Bil'in and Ni'lin, west of Ramallah in the West Bank.
The Hebrew radio quoted the officer in the occupation army "Aviv Rishv" that the injuries of the Zionist occupation soldiers included broken limbs and loss of sight.
The officer said in a radio interview, that the instructions to open fire on Palestinian demonstrators are very stringent, claiming that "The Palestinians have been killed during the clashes came under fire after they had endangered the life of the Zionist soldiers."
The officer "Rishv" admitted that the Palestinian demonstrators in these villages inflicting heavy financial losses in the wall through the weekly demonstrations.
Years ago, the villages of Bil'in and Ni'lin have been witnessing weekly peaceful protest marches against the Israeli apartheid wall which eats up their land; and during which six Palestinians were killed and hundreds were injured and suffocated.
It is worth mentioning that the Supreme Court of Justice in The Hague had issued an earlier decision which considered the construction of the wall illegal.