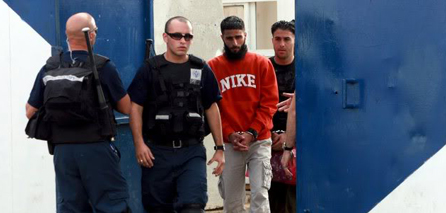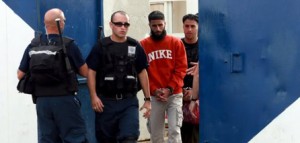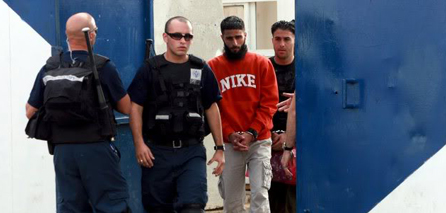 Two Palestinian prisoners were injured on Sunday morning after oppressive Zionist attack for National Unity section in Ofer prison western of Ramallah .
Zionist oppression units in occupation jails waged today morning a very massive attack against the Palestinian prisoners in Ofer prison. The attack caused of many injuries among prisoners, as well as huge damage was left as a result of the savage attack . Case of wounded prisoners described as critical and moderate.
Media resources mentioned that three Zionist military troops( Metsada, Drour and Nahshon) waged savage attack for section number six ( section of National Unity) that Hamas and Fateh prisoners dedicated to live with each other.
The troops devastated the section and destroyed all contents ,mixed water with oil and cloths, and huge damage was left before retreating due to prisoners mobilization in all sections.
Fouad al-Khafash, the director of Ahrar center for prisoners studies and human rights ,announced that the aggression of this sadistic troops caused of injuring two prisoners from the section of Unity and common existence between Fateh and Hamas members.
The two wounded prisoners are Maher Khamaysha and Hisham Ghnimat, and both were carried to hospital after confronting provocations of these aggressive troops.
A case of tension and anger dominated the Palestinian prisoners after the Zionist acts, and as a result, prisoners declared provocation and threats against prisons administration to push them withdraw the troops from prisons.
After withdrawal, the Zionist administration of prisons deprived prisoners of room number 8 and 9 from visits for one month.
Khafash announced , " these brutal acts ,did by Ofer prison administration comes as a result for the meeting between the Zionist administrator of prison services Bini ,and administrator of southern brigade Jezon with representatives of Ofer prison which aimed to stop prisoners from performing hunger strike .
Prisons administration promised Ofer prisoners to grant them special excellencies, the thing they refused, insisting on feeling solidarity with other prisoners in other prisons.
They also mentioned that the prisoned movement in Ofer prison is a part of the prisoned movement in all jails.
Khafash called human rights organizations and international sides to feel solidarity with our prisoners by raising prisoners case for high international levels to stop the continued suffering .
At the same context, Hani Abu EL Seba'a, leader of prisoned movement in Ofer prison revealed for Ahrar center that Bini and Jezon threatens representatives of Palestinian factions in occupation jails to perform collective punishment against all prisoners, the thing performed the day after.
He also mentioned that the devastation left was very massive, adding that targeting unity section by this brutality means that prisons administration is annoyed from this ideal example of unity, and it fears from spreading such example in all Zionist prisons.