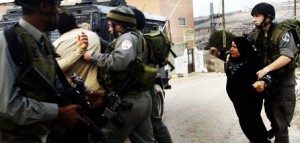 Zionist occupation forces kidnapped three Palestinians at dawn from Al Khalil and the town of Beit Omar, also seized three vehicles.
According to local sources, the Zionist occupation forces kidnapped Ibrahim Awad, 17 years, and Mahdi Aadi, 16 years, from the town of Beit Omar north of the city, after raiding the homes of their families at dawn.
The sources added that the occupation also kidnapped Anas Dweik, 20 years, from the city of Al Khalil, after storming and searching his family's house.
In the town of Beit Kahel north-west of Al Khalil, the Zionist occupation forces confiscated two trucks from Hassouna factory for plastics industry, after storming it and kidnapping its staff.
A third vehicle was confiscated from a citizen after being held at a surprise checkpoint ambushed by the Zionist soldiers between the towns Doura and Al Zaheriya south of the city.