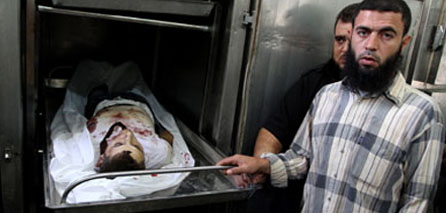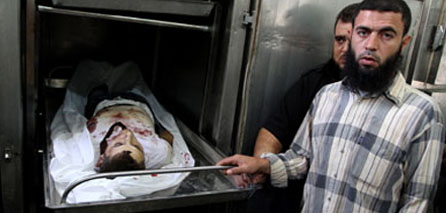 Zionist Occupation forces invaded on Saturday at night east of Al Boreij refugee camp under heavy gunfire , Al Qassam correspondent reported that two Palestinians were killed and one Zionist soldier was injured when a resistance group clashed with Zionist occupation soldiers invading the area east of the Gaza Strip.
He also reported that Zionist occupation forces opened fire heavily at homes what caused of huge destruction.
As a normal response , Palestinian fighters fired rounds of live ammunition at Zionist soldiers who invaded the area, and moderately injured one soldier.
Adham Abu Salmiyya, spokesperson of the Emergency Department in the Gaza Strip, stated that Palestinians medics are unable to enter the area to evacuate casualties because of the continued gunfire by Zionist tanks stationed near border.
Two palestinians were killed near border last week, while Zionist occupation forces target the Palestinian workers collecting gravels at border area.