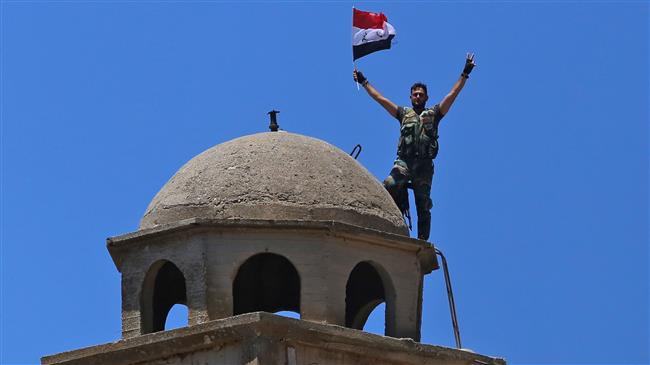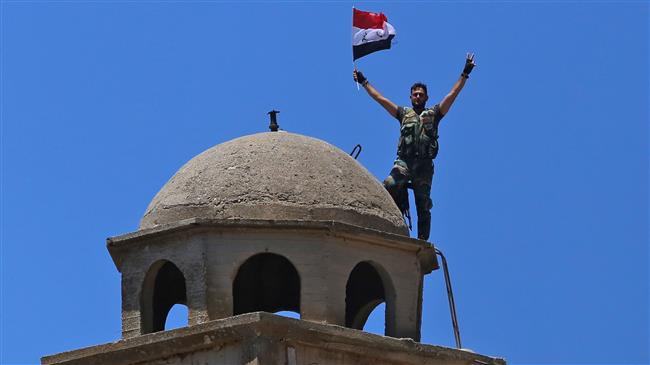 At least 100 members of the Takfiri Daesh terrorist group have fled from Syria's southwestern province of Dara'a toward Jordan's border areas after losing ground to advancing Syrian army troops, a monitor says.
The so-called Syrian Observatory for Human Rights reported the development on Thursday, adding that the Daesh terrorists had escaped from the Yarmouk Base in in Dara'a toward the villages of Beit Ara and Koya, located in the vicinity of Jordan's border.
The report added that the terrorists were using local inhabitants of the rural areas as human shields against alleged airstrikes by the Syrian military. It further said that dozens of Daesh terrorists had already surrendered to Syrian government troops, and some 30 others had been executed by the terror outfit itself.
The government has been making swift advances in the southern and southwestern regions of Syria.
President Bashar al-Assad said earlier in the week that final victory over terrorism was close thanks to the sacrifices of the Syrian Armed Forces.
Commemorating the national Army Day, the Syrian president praises the sacrifices of armed forces on the battlefield against terrorists.
In recent weeks, the Syrian army has been trying to wrest control of the southern provinces of Dara'a and Quneitra, which border the Israeli-occupied Golan Heights. Takfiri militants have been handing over their heavy weapons to Syrian government forces and leaving the region in negotiated surrender deals.
The full liberation of both Dara'a and Quneitra by Syrian government forces would cut the much-reported collaboration between Israel and the anti-Damascus militants operating in the two regions.
Syria has been gripped by foreign-backed militancy since March 2011. The Syrian government says the Israeli regime and its Western and regional allies are aiding Takfiri terrorist groups wreaking havoc in the country.
But that conflict is winding down as the Syrian central government reasserts its control over the country.