Europe
1,000s of Catalans call for early regional election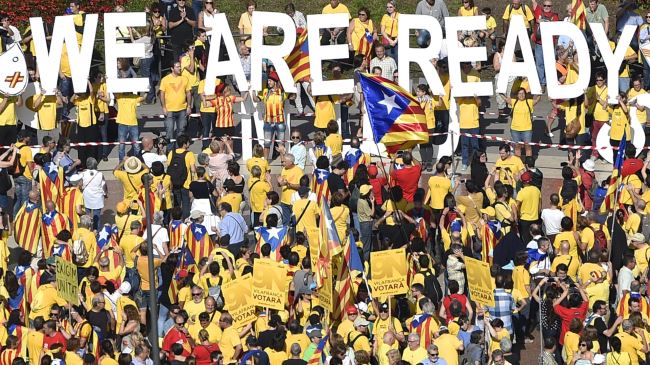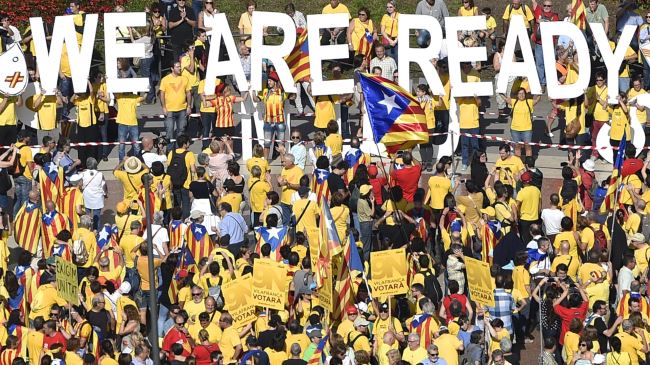 Catalans have staged a mass rally in the regional capital, Barcelona, calling for an early regional election.
Tens of thousands of protesters took to the streets of Barcelona on Sunday, demanding Catalonia's President Artur Mas to call snap regional elections, a move likely to benefit the pro-independence ERC party.
The request comes after the Spanish government forced authorities in Catalonia to water down their plans for an independence vote formerly scheduled for November 9.
Waving Catalan independence flags and holding banners reading "Now is the Time" and "We are Ready," the demonstrators criticized the Spanish government, which is strongly opposed to Catalonia's independence.
In an address to the protesters, Carme Forcadell, the President of the National Assembly of Catalonia, also stressed that Catalans plan to hold a snap regional election.
"President, call elections, we want to vote in the next three months. We want to start in the spring of 2015 with a new parliament," Forcadell said.
Spain's constitutional court last month suspended Catalonia's referendum on independence after a request from Spanish Prime Minister Mariano Rajoy.
A day after the announcement, thousands of demonstrators took to the streets of Barcelona, vowing to disobey Spain's blocking of Catalonia's independence referendum.
The Catalan government has also said that it would push ahead with its scheduled plan to hold the referendum, despite the court order to suspend the vote.
Catalonia with its population of 7.6 million people accounts for nearly one-fifth of the Spain's economy and has been seeking independence for years.