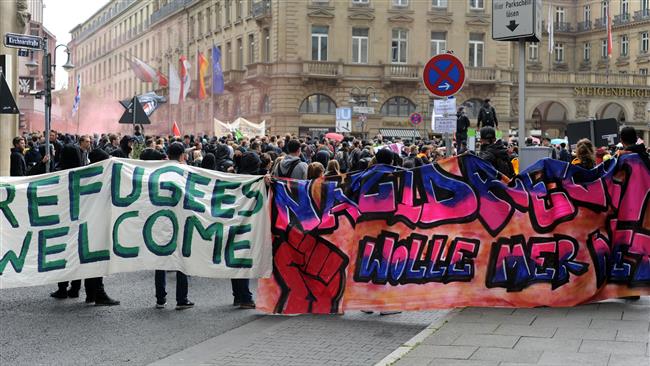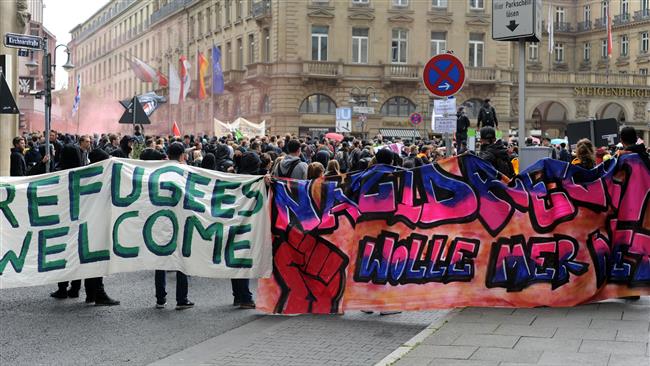 Thousands of Germans have staged a large counter-rally in the city of Frankfurt to denounce what they describe as a provocative march by the anti-Islam and anti-immigration PEGIDA movement.
On Saturday, some 2,000 people took to the streets of Frankfurt to protest against the far-right group's activities, chanting, "Migrants will be welcomed in Frankfurt" and "Nazis out of Frankfurt."
The counter-demonstration was held as about 200 followers of the PEGIDA movement gathered in Frankfurt's Rossmarkt Street, shouting anti-Islam and xenophobic slogans against migrants.
Nearly 1,000 police officers intervened to keep order, putting up a barricade between the two groups to prevent clashes.
However, skirmishes did break out between protesters and police officers. A number of people were injured and taken into custody during the violence.
PEGIDA is a German acronym, whose full name translates as "Patriotic Europeans against the Islamization of the West."
The extremist group began to launch weekly Monday night rallies in Germany's eastern city of Dresden in October 2014. PEGIDA followers demand stricter rules on the influx of immigrants into Germany and Europe.
However, PEGIDA is gradually losing its popular appeal as several groups opposing the movement have emerged over the past year.
Rally in Berlin
Elsewhere in Germany, thousands of demonstrators marched through the capital, Berlin, to commemorate the World Refugee Day.
The protesters urged EU leaders to find a solution to the migrant crisis in Europe as soon as possible. The participants in the march also called for the settlement of the debt crisis in Greece.
"In light of the mass casualties in the Mediterranean and the brutal austerity measures in the European south, the limits of acceptance have long since been reached," read a statement on the website of the organizers of the march.
Official figures show that approximately 100,000 migrants have risked their lives to enter Europe and settle down in the continent so far this year.
The number of migrants who have died in the Mediterranean this year shows a 20-fold increase compared to the figures recorded in the same period last year.
Greece, meanwhile, is on the brink of financial collapse, as a deadline of June 30 for Athens to pay off loans from international creditors looms.