North America
Human Rights
1000s of new documents found on brutal history of slavery in US
New documents have been found revealing the depth of brutal slavery in the United States.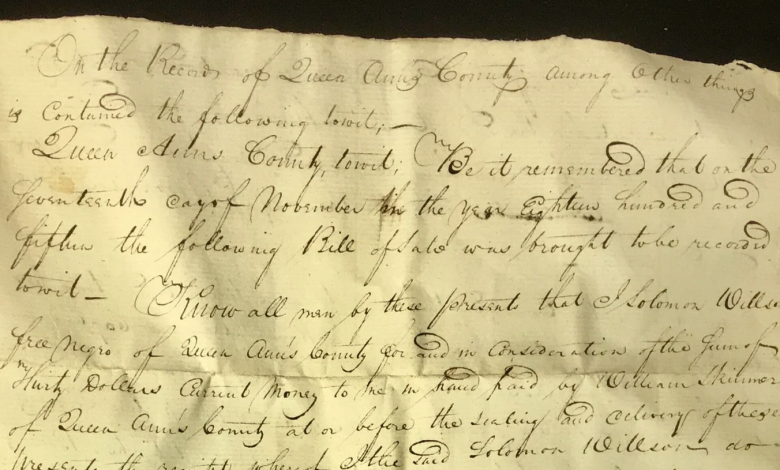 Around 2,000 pages of historical documents, dating back from the 1600s to 1800s, were discovered in the attic of a 200-year-old house in the US state of Maryland.
Some of the pages reveal harrowing details about the auction and sale of enslaved African Americans, whose rights keep being violated decades after the formal abolishment of slavery in the US.
"It was important to the community because this will connect the dots for people and the younger generation, to let them know how things were. To move forward, you have to see what the past was like," Carolyn Brooks, a community historian with the Chesapeake Heartland Project, told the Hill.
The papers were initially headed for auction but members of the local Black community raised money to make sure they are preserved for  future generations to witness.
"This project has started to give me pieces of myself and who I am and it's something I couldn't be more grateful for," said Darius Johnson, a Washington College alum, who saw pictures.
One of the documents details embezzlement of over 50 acres of land originally purchased by a free mixed-race farmer in 1802.
"Tying in the historical narrative has been critical because I want the Black people of Kent County to know that, just a generation or two away, our people owned something – and within that generation or two, we lost that. It's not that far out of reach, it's attainable," Johnson added.
The papers were released at a time that the African Americans' struggled to seek justice and equal opportunities continued across the United States to no avail.
The Black communities' quest for justice has been boosted by the high profile cases of people of color losing their lives in the hands of White police officers.
Many believe that police racial practices in the US today have their origins in the slave trade markets of the past.
A wide rage of experts have pointed out to what is called "modern day slavery" in the country nowadays.