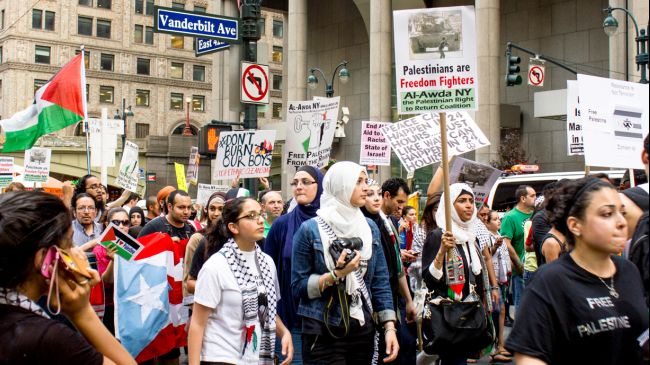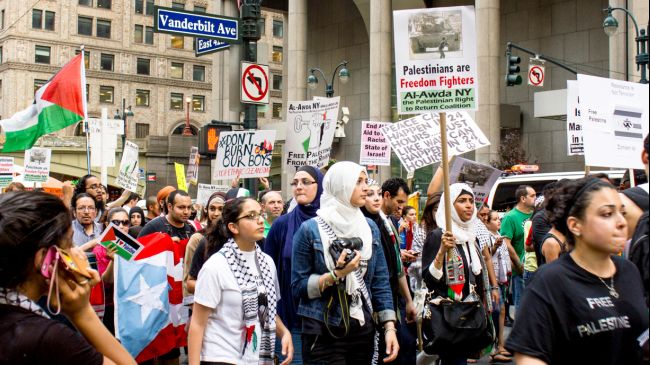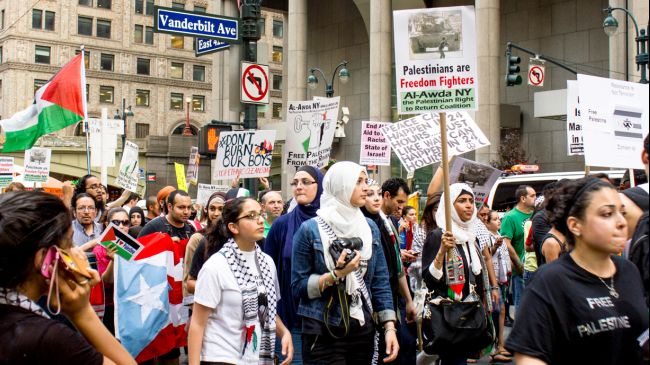 Thousands of people have held a demonstration in New York City to denounce Israel's war on Palestinian children as Tel Aviv's offensive against the besieged Gaza Strip continues, Press TV reports.
The protesters, who gathered at the Times Square in Midtown Manhattan on Wednesday, said the Israeli strikes are part of a global "war on children," a Press TV correspondent reported.
Waving Palestinian flags, and chanting slogans, the demonstrators denounced the Zionist regime and its crimes against the Palestinians.
"Just earlier today Israeli navy shot to death four children who were playing on a beach — just shot them to death! You know, the Zionist state has got to be stopped. People have to rise up and fight back," said Monica Moorehead of the International Action Center.
The protesters sought to link the deaths of children in Gaza, with the suffering of children all over the world as a result of US militarism and aggression.
Teresa Gutierrez, leader of the May 1st Coalition, explained why a number of immigrant rights activists also came to the rally, and spoke about recent events at the US border, connecting them with the situation in Gaza.
"Right now what we are seeing in the world today is a dire and extreme situation for children and young people where there's the forced migration of young people from Central America who are war refugees. These are not migrants. These are not undocumented people. These are war refugees," said Gutierrez.
"And there's bombing and killing of young children on the beaches of Gaza. There's a horrific war [going on] that's masterminded and plotted by the US government and Israel against the people of the world and right now this war is targeting young people in Gaza," she added.
The protest rally went on for several hours, receiving many gestures of support from the public.
This is just one of the many demonstrations that have been staged in the US over the past days in support of the Palestinians.
More than 260 Palestinians have been killed and hundreds wounded, including women and children, by the latest wave of Israeli aggression against the besieged territory. In response to the attack, Palestinian resistance fighters fired rockets into Israeli cities. One Israeli has reportedly died by a rocket.
The White House has backed Israel's aggression against the Palestinians, saying the regime in Tel Aviv has a right to defend itself from rockets fired from the Gaza Strip.
"No country [sic] can accept rocket fire aimed at civilians," White House press secretary Josh Earnest said on Monday. "And that's the reason that we support Israel's right to defend itself."