Europe
1000s protest Hungarian govt.'s anti-refugee policy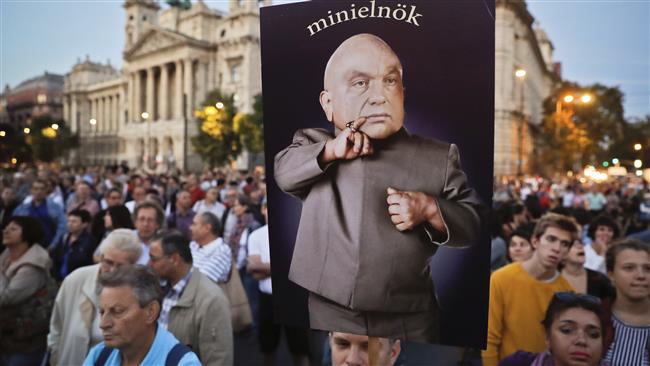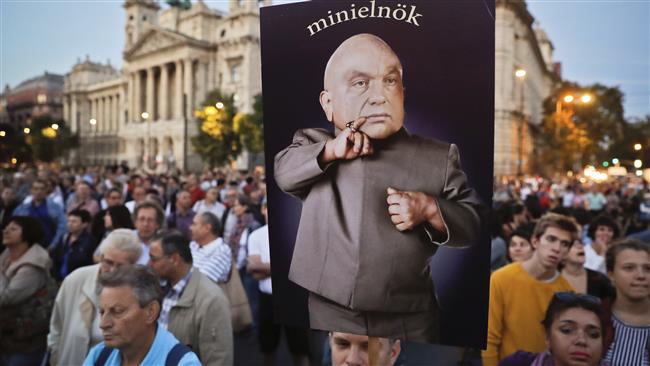 Thousands of people have poured onto the streets of the Hungarian capital, Budapest, to express their outrage at Prime Minister Viktor Orban's hard-line approach to asylum seekers ahead of a referendum on the European Union's refugee quotas.
Friday's demonstration, which was organized by civilians under the motto "See the man," called for peace, freedom and  human rights.
Protesters held banners reading, "Do no harm" and "Home and freedom should be a human right."
Hungarian and foreign activists as well as members of non-governmental organizations were among the demonstrators while some of them gave a speech to the crowd.
Arpad Schilling, the event's organizer and theater director, said, "We have been living in the captivity of fear and hatred but now we fear and we hate even those whom we do not know at all."
Protester Erika Saraljai, described the government's anti-refugee agenda as outrageous, saying, "Poor migrants are escaping from wars and here they are portrayed as terrorists who will cause trouble and wars and will drive us out from here."
Some 30 Hungarian artists drew a giant painting depicting the horrors of fighting in the Syrian city of Aleppo. The picture, which served as a background for the protest stage, will go on a tour of Europe.
Organizers of Friday's demonstration expressed hope that the drawing would urge people to show solidarity towards the suffering of Syrians and demonstrate that not all people in Hungary agree with the government's anti-refugee campaign.
The demonstration came two days before a referendum in the Central European country on the EU plans to distribute asylum seekers across the bloc.
Orban has called on Hungarians to reject Brussels' refugee quotas in Sunday's vote.
Opinion polls show that 80 percent of voters will support a rejection of the quotas. However, the surveys forecast turnout will not top the 50 percent required by the constitution for a referendum to be valid.
A controversial Hungarian government sponsored billboard campaign has accused asylum seekers of being responsible, among other things, for last year's terror attacks Paris and an increase in rapes in Europe. In response, the opposition has launched a counter campaign aimed at mocking the government's ads.
Since last September, when hundreds of thousands of refugees crossed Hungary on their way to richer countries in Western Europe, the government in Budapest has sealed the country's southern border to asylum seekers with a razor wire fence and deployed about 8,000 army soldiers and police there.
Earlier this week, Amnesty International slammed the Hungarian government for ill-treatment of refugees, saying it is using "fences, teargas, and draconian legislation" to dissuade refugees from entering the country.
The entire Europe is facing an unprecedented influx of refugees, most of whom are fleeing conflict zones in Africa and the Middle East, particularly Syria.
Many blame major European powers themselves for the unprecedented exodus, saying their policies have led to a surge in terrorism and war in the violence-wracked regions.
Over 302,400 asylum seekers have reached Europe by sea so far this year, while some 166,600 people died or went missing in their perilous journey to the continent, according to the latest figures by the International Organization of Migration (IOM).