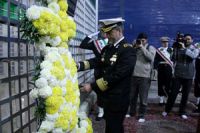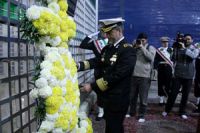 A number of navy commanders and officials visited the mausoleum of the late Imam Khomeini (May his soul rest in peace) in downtown Tehran on Thursday morning to renew allegiance to the Founder of the Islamic Republic on the occasion of Iran Navy Day, November 28.
According to IRNA, the group paid tribute to the Father of the Islamic Revolution by laying a wreath at his tomb.
November 28 is marked in Iran as the national Navy Day. It commemorates an operation by the courageous Navy forces of Iran in 1980 against Iraq's navy and air forces during the 8-year Iraqi imposed war on Iran (1980-1988).
The operation resulted in a victory for Iran which managed to inflicted significant damage to Iraq's navy and air forces.