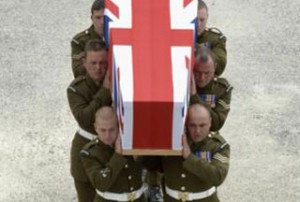 With the loss of the 100th British soldier in Afghanistan, the year 2009 is the bloodiest year for the UK military since the 1982 Falklands War with Argentina.
The British defense ministry reported on Monday evening that the soldier was shot dead in Helmand Province in the south of the war-torn country.
In a condolence message, Prime Minister Gordon Brown said the entire nation stands by the families and friends of all the 100 soldiers killed in 2009.
Britain, with 10,000 troops, has the second-biggest contingent in Afghanistan after the United States. London pledged last week to dispatch an additional 500 troops to the Central Asian country.
However, opinion polls show that support for Brown's decision to send more soldiers to Afghanistan is dropping in Britain.